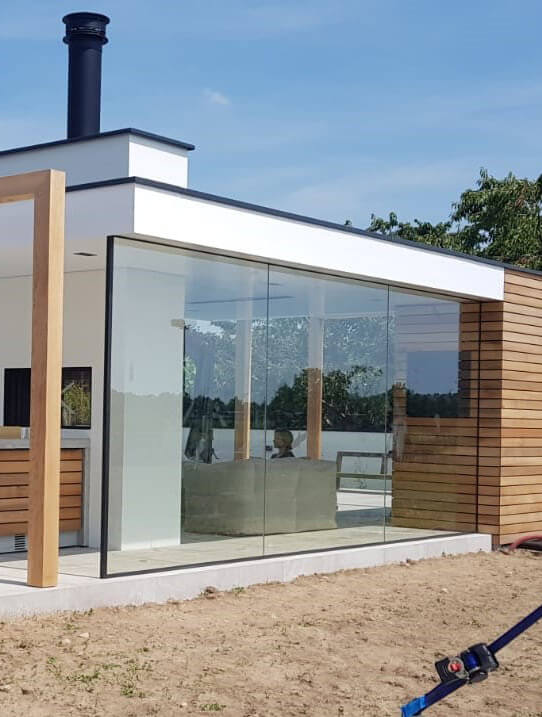 Bij een relatief lage belasting kan een ruit bezwijken, met alle gevolgen van dien.  Onze Safeperform beglazing is 5x sterker dan niet gehard glas. Er zijn legio voordelen, denk aan oplossingen in constructie, maar ook aan inbraakvertraging, kogelwering, explosiewering of brandvertraging.
nadere informatie over gehard veiligheids glas
Nadat een ruit op maat is gesneden en er eventuele verdere bewerkingen hebben plaatsgevonden, wordt deze sterk verwarmd in een hardingsoven en direct daarna afgeblazen met koude lucht. Hierdoor ontstaan druk- en trekspanningen die de ruit gemiddeld 5x sterker maken
Bovendien is de ruit nu ook veel beter bestand tegen plaatselijke opwarming (temperatuurschokken tot wel 200graden C.!).  En het is mogelijk om op het geharde veiligheids metalen onderdelen te klemmen, met of zonder van tevoren aangebrachte sparingen en gaten. Denk bij dat laatste bijvoorbeeld aan hardglazen deuren.  Mocht er toch een geharde ruit bezwijken dan ontstaan er kleine onscherpe  korrels  in plaats van grote scherven.  Het glas voldoet aan type C (EN 12600) en mag letselbeperkend worden genoemd (NEN 3569)  .
Hoe de juiste keuze maken?
Afhankelijk van de toepassing en eisen is er altijd wel een veilige oplossing te bedenken.  Ons basisglas kan gehard worden (dikte vanaf 4mm), en ook gekleurd glas PARSOL of ijzerarm, extra helder glas DIAMANT.
Wilt u juist doorschijnend glas denk dan eens aan geëtst glas, of sommige figuurglas soorten.  Daarnaast is het ook mogelijk de ruiten na het harden te lagen (gehard gelaagd glas ) zoals vereist wordt in glazen balustrades of bij beloopbaar glas . 
Neem contact met ons op. Wij vinden altijd de juiste glaskeuze voor een veilige toepassing.