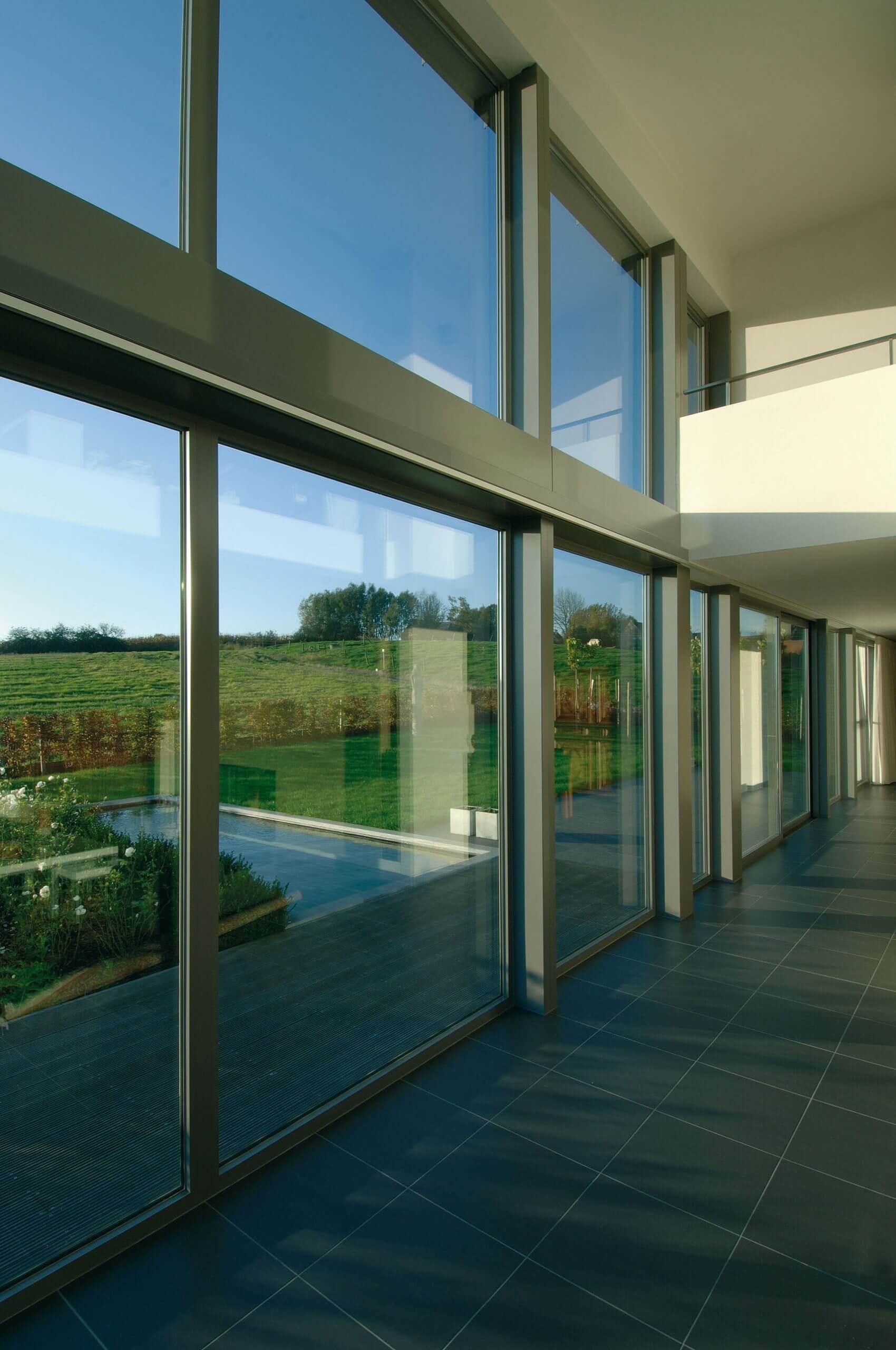 inkijk beperken met in isolatieglas ingebouwde lamellen
Het comfort van privacy kan ook betekenen het creëren van een besloten ruimte afgeschermd van inkijk. Bereik dit met de in het isolatieglas ingebouwde lamellen.
wat is inbraakvertragend glas?
Glas is in principe een zeer breekbaar materiaal. Bij inbraakpogingen via de beglazing zou een inbreker -afgezien van het lawaai van brekend glas- relatief snel en ongestoord binnen kunnen zijn. Met inbraakvertragend glas wordt de inbreker langer buiten gehouden.
glas en PVB - ProtectPerform
Met ProtectPerform, gelaagde beglazing kunnen de veiligheid van goederen en personen worden gewaarborgd. Inbraakvertragend isolatieglas is samengesteld met minimaal één paneel ProtectPerform, gelaagd veiligheidsglas. Gelaagd glas bestaat uit twee of meerdere glaspanelen die onlosmakelijk aan elkaar verbonden zijn door middel van één of meerdere PVB(polyvinylbutyral)-folie van elk 0,38mm dik.
In geval van glasbreuk, blijven de glasscherven kleven aan de PVB-tussenlagen en blijft de glazen afscheiding in stand.
Door het aantal folies en glaspanelen en/of de glasdikte van elk van de componenten te variëren, worden gelaagde beglazingen verkregen met verschillende beschermingsniveaus. In geschikte kozijnen kan ProtectPerform een obstakel in verschillende gradaties vormen voor inbraak en vandalisme.
glas en polycarbonaat - Polygard
Polygard is een combinatie van meerdere glaspanelen en een paneel polycarbonaat. Het gebruik van polycarbonaat heeft een positieve invloed op het totaalgewicht en de dikte van de glassamenstelling. Voor dezelfde weerstandsklasse is glas met Polycarbonaat dunner, sterker en minder zwaar dan de traditionele samenstelling met glas en PVB.
hoe de juiste glaskeuze maken?
De keuze hangt af van de waarde en de aard van de te beschermen goederen, en het inbraakrisico als gevolg van het type gebouw en de ligging.
Daarnaast is het belangrijk de glassterkte aan te laten sluiten op de weerstandsklasse van de rest van de gevelelementen, zoals het hang- en sluitwerk. Het risico moet per situatie onderzocht worden, zonder eventuele specificaties van de opdrachtgevers en/of verzekeraars te vergeten.
Eigenaren van winkels en bedrijven, die een hoge interesse wekken bij professionele inbrekers, kunnen zich beter laten adviseren door een beveiligingsspecialist.   
NEN EN356
Deze norm beschrijft inbraakvertragende beglazing | weerstand tegen manuele aanval en de bepalingsmethode voor de klassen:
de basisbeveiliging: klassen P1A tot en met P5A en de test om de klasse van het glas te bepalen.
De test onderwerpt het glas in het midden, aan de impact van minimaal 3 inslagen van een metalen kogel van 4,1 kg. De valhoogte en het aantal inslagen verschillen per klasse. Bij de laatste impact mag de metalen kogel geen gat in het glas slaan.
een hoger beschermingsniveau: klassen P6B tot en met P8B en de test om de klasse te bepalen.
Het doel van deze test is om een opening in het glas te krijgen van minimaal 40x40cm door middel van een hamer en een hakbijl.  Het aantal slagen dat nodig is om dit doel te bereiken, bepaalt de klasse waaraan het glas voldoet.
regelgeving, normen en voorwaarden
Bouwbesluit 2012
Het Bouwbesluit 2012 stelt wettelijke eisen aan de inbraakwerendheid van nieuwbouwwoningen en woningen met een bouwvergunning na 1999. Indien een gevel of een deel daarvan bereikbaar is, dan moet deze gevel of het deel ervan te voldoen aan de weerstandsklasse 2N (N=nationaal). Hoe met glas een deze eis kan worden voldaan is geregeld in NEN5096:2012. 
NEN5096 - bepaling weerstandsklassen
Bij weerstandsklasse 2 heeft een gelegenheidsinbreker met gebruikelijk gereedschap in het algemeen ten minste 3 minuten nodig om in de woning in te breken
Vanaf weerstandsklasse 3 vormt de gelegenheidsinbreker nagenoeg geen gevaar meer. Alleen met zwaardere gereedschappen en meer geduld & tijd bestaat een kans, dat klasse 3 in een normaal geval niet volstaat voor woningen. Dit zijn meestal de goed voorbereide inbrekers die een huis in het duurdere segment op het oog hebben.
Een woning moet voldoen aan weerstandsklasse 2. Dat betekent dat dubbel isolatieglas volstaat mits minimaal één van de glasbladen van ongehard veiligheidsglas is.
Enkelglas in de buitengevel moet worden uitgevoerd in minimaal P4A inbraakvertragend glas.
PKVW
De eisen die het Politiekeurmerk Veilig Wonen (PKVW) stelt ten aanzien van 'glas en de nieuwbouw woning' zijn gelijk aan de eisen van het Bouwbesluit.
andere voorwaarden
Opdrachtgevers als de Rijksvastgoedbedrijf of verzekeringsmaatschappijen kunnen in verband met de omvang van het inbraakrisico of op basis van wettelijke verplichtingen, aanvullende eisen stellen aan het beschermingsniveau en dus de weerstandsklasse van het inbraakvertragend glas.
NEN EN356 testen in detail