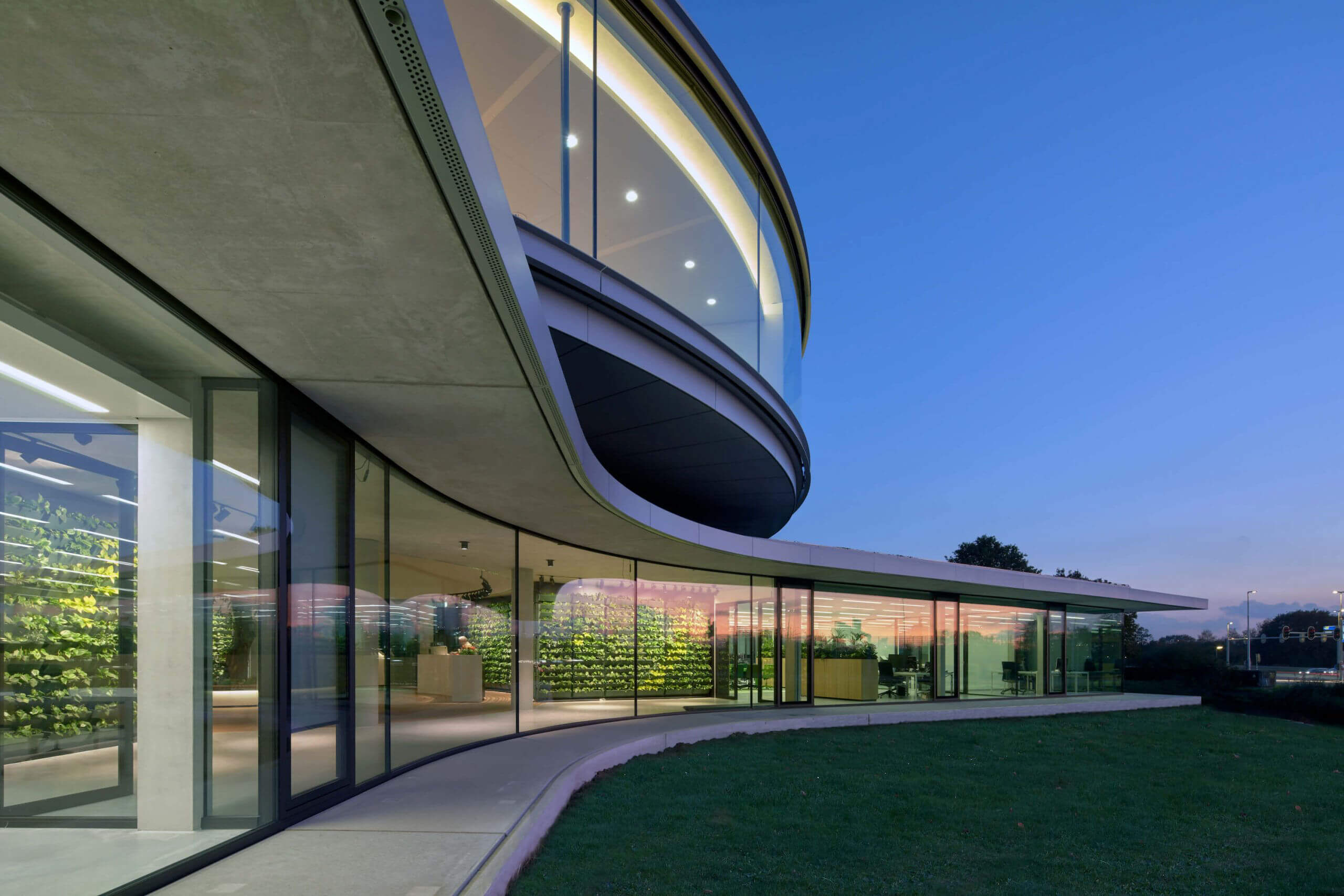 Ontwerp gebouwen in zachte vormen en vloeiende lijnen met gebogen gevelbeglazing.
Rechthoekig bouwen wordt nog steeds als zeer efficiënt  en vaak goedkoper beschouwd. Toch zou ronde architectuur diverse voordelen hebben ten opzichte van rechte vormen in de gebouwde omgeving. Zo worden volgens experts mensen gelukkiger van ronde vormen in hun streven naar harmonie tussen natuur, standslandschap en de mens.  Gebouwen met meer zachte, ronde en organische vormen geven minder visuele vertraging en gaan subtieler op in de omgeving zonder iconisch onderscheid in te leveren.
Van eenvoudig cilindrisch gebogen glas tot complexe polyaxiale vormen, van de gebogen winkelbalie tot de gebogen glazen gevel, van floatglas tot superzuinig triple pane isolatieglas, met meer dan 90 jaar ervaring is vandaglas de buigspecialist voor gebogen glas in de (interieur)architectuur. Het merk vandaglas Döring staat voor een breed scala aan gebogen glasproducten en mogelijkheden.
specialisatie: gebogen glas en INNOVATIE 2022
vandaglas is gespecialiseerd in gebogen glas. Als enkelglas, en in het bijzonder als dubbel- of triple isolatieglas. Van een sublieme kwaliteit waarbij de thermische of zonnewarmtewerende coating geen vertekening in het glas veroorzaakt. En ongeacht of het isolatieglas is samengesteld uit componenten als ProtectPerform gelaagd veiligheidsglas.
CurvePerform is onze productnaam voor cilindrisch of conisch gebogen glas.
Sinds januari 2022 biedt vandaglas een doorontwikkeling aan onder de naam WavePerform. Uniek is dat WavePerform een zowel concaaf als convex (hol en bol) gebogen ruit is. De onderstaand vermelde afmetingen zijn ter illustratie. Neem contact met ons op: er is veel mogelijk!
hoe de juiste keuze maken?
Ons gamma gebogen beglazing kan worden gemaakt van verschillende soorten basisglas (bijvoorbeeld extra helder glas met laag ijzeroxide gehalte, gekleurd floatglas, gefigureerd glas). We kunnen het  desgewenst uitvoeren als gelaagd veiligheidsglas ProtectPerform of gehard veiligheidsglas SafePerform. 
Onze special: CurvePerform in IsoPerform dubbel isolatieglas of TriplePerform drievoudig glas.
Hieronder de uitgangspunten voor gebogen (isolatie)glas. Elk project is maatwerk en komt in nauw overleg met onze opdrachtgever tot stand.
Neem contact met ons op: onze adviseurs vinden altijd de juiste glas samenstelling en oplossing voor uw toepassing.
architecten adviseurs
sales architecturale gevelbeglazing