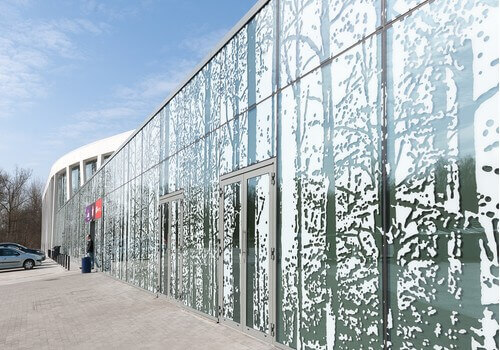 Personalisatie in zeefdruk patroon of afbeelding. Esthetisch én functioeel..
Op het glas wordt een ondoorzichtig of doorzichtig emaille motief aangebracht. Het emaille wordt op hoge temperatuur duurzaam met het glas versmolten. Door dit proces voldoet het glas ook aan de eisen van gehard veiligheidsglas cf. de EN1250.
Afhankelijk van de bedrukkingsgraad beperkt de zeefdruk de zontoetreding.
onze specialisten voor uw maatwerk
Isolerende gevelbeglazing voorzien van een zeefdruk patroon of afbeelding is maatwerk product. Neem contact met ons op.
Wij begeleiden u graag en vinden altijd de juiste glasoplossing.
architecten adviseurs