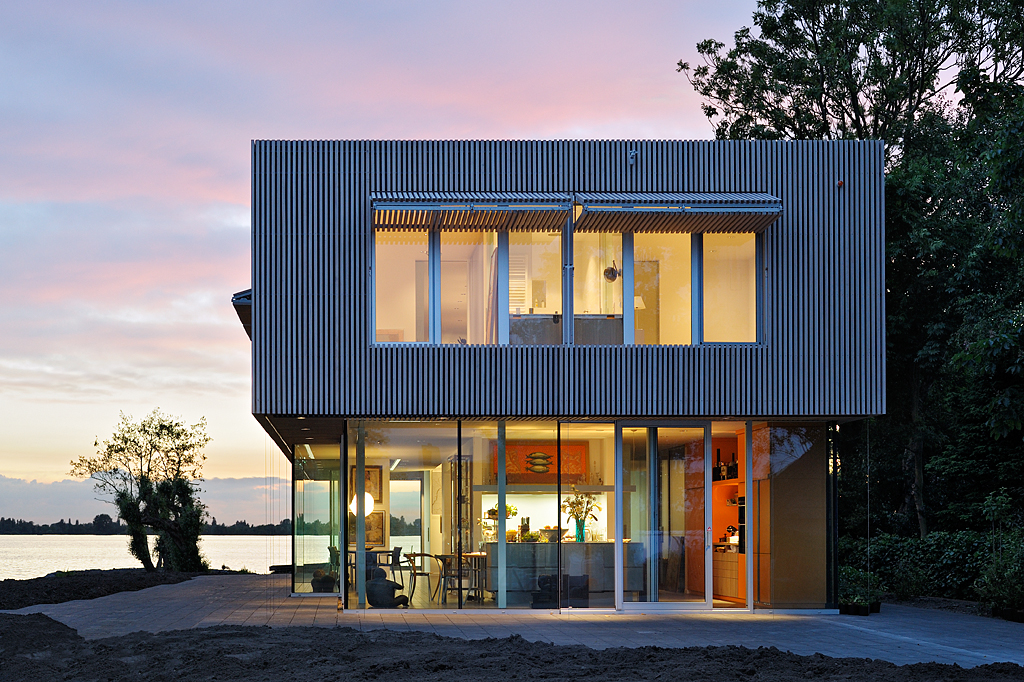 veilige glazen afscheidingen
Wees alert op doorval- en doorloop risico's. Wel of geen hoogteverschil tussen beide zijden van de glazen afscheiding is bepalend voor het type veiligheidsglas. 
Doorloopveilig isolatieglas minimaliseert de kans op letsel bij een impact op een glazen afscheiding zonder vloerniveauverschil aan beide zijden van het glas. Denk bijvoorbeeld aan een schuifpui, gevelbeglazing van vloer tot plafond of deurconstructie met glas vanaf minder dan 80 cm vanaf de grond.
Het is belangrijk te beoordelen aan welke zijde een mogelijke impact kan voorvallen. In de meeste gevallen gaat het om het risico dat per ongeluk tegen de glazen afscheiding kan worden aangelopen.
Aan de kant waar de stootbelasting kan plaatsvinden passen we glas met een veilig breukpatroon toe.
Bij breuk van gelaagd veiligheidsglas ProtectPerform valt het niet uit elkaar in scherpe stukken maar blijven de scherven in een stervorm aan de folie kleven. Hiermee blijft ook de afscheiding in tact.
Bij breuk van volledig gehard SafePerform of half gehard (ofwel voorgespannen) DurciPerform veiligheidsglas valt het uiteen in relatief onscherpe korrels. Waar nodig voeren we zowel de binnen- als de buitenruit in veiligheidsglas uit.
NEN3569
Met het toepassen van NEN 3569 kan eenduidig worden aangetoond dat qua letselveiligheid wordt voldaan aan de betrouwbaarheidseisen van het Bouwbesluit 2012. vandaglas heeft alle know-how in huis om u hierin te adviseren en het glas te leveren waarmee u ervoor zorgt dat uw project aan alle veiligheidseisen voldoet
Waar niveauverschil is aan beide zijden van de glazen afscheiding krijgt beglazing de functie van een vloerafscheiding of borstwering. Bij breuk bestaat het risico op het naar buiten en naar beneden vallen van voorwerpen of erger nog mensen of dieren. Hier ontstaat de noodzaak doorvalveilig glas toe te passen. Dit stelt extra eisen aan de keuze van de glasopbouw. Een keuze kan grote gevolgen hebben. Het is zaak de glassterkte goed te berekenen en af ​​te stemmen op de ruitafmetingen, maar ook op de gebouwfunctie en de effecten op de gebouwfunctie en de bijbehorende factoren voor stootbelasting.
De ruit aan de zijde waar de stootbelasting kan plaatsvinden is in ieder geval gelaagd veiligheidsglas. De situatie bepaalt de opbouw van de gelaagde glassamenstelling.
Het juiste veiligheidsglas kan van levensbelang zijn!
De veiligheid van beglazing als onderdeel van de bouwkundige constructie is een complex fenomeen dat vraagt om maatwerk advies. vandaglas heeft alles in huis om u te helpen hierin de juiste keuzes te maken. Wij leveren doorvalveilig isolatie glas in ieder geval altijd in gelaagd veiligheidsglas met geharde glaspanelen die nog eens 5x sterker zijn dan gewoon glas. Met vandaglas bent u verzekerd van een veilig gebouw voor iedereen.