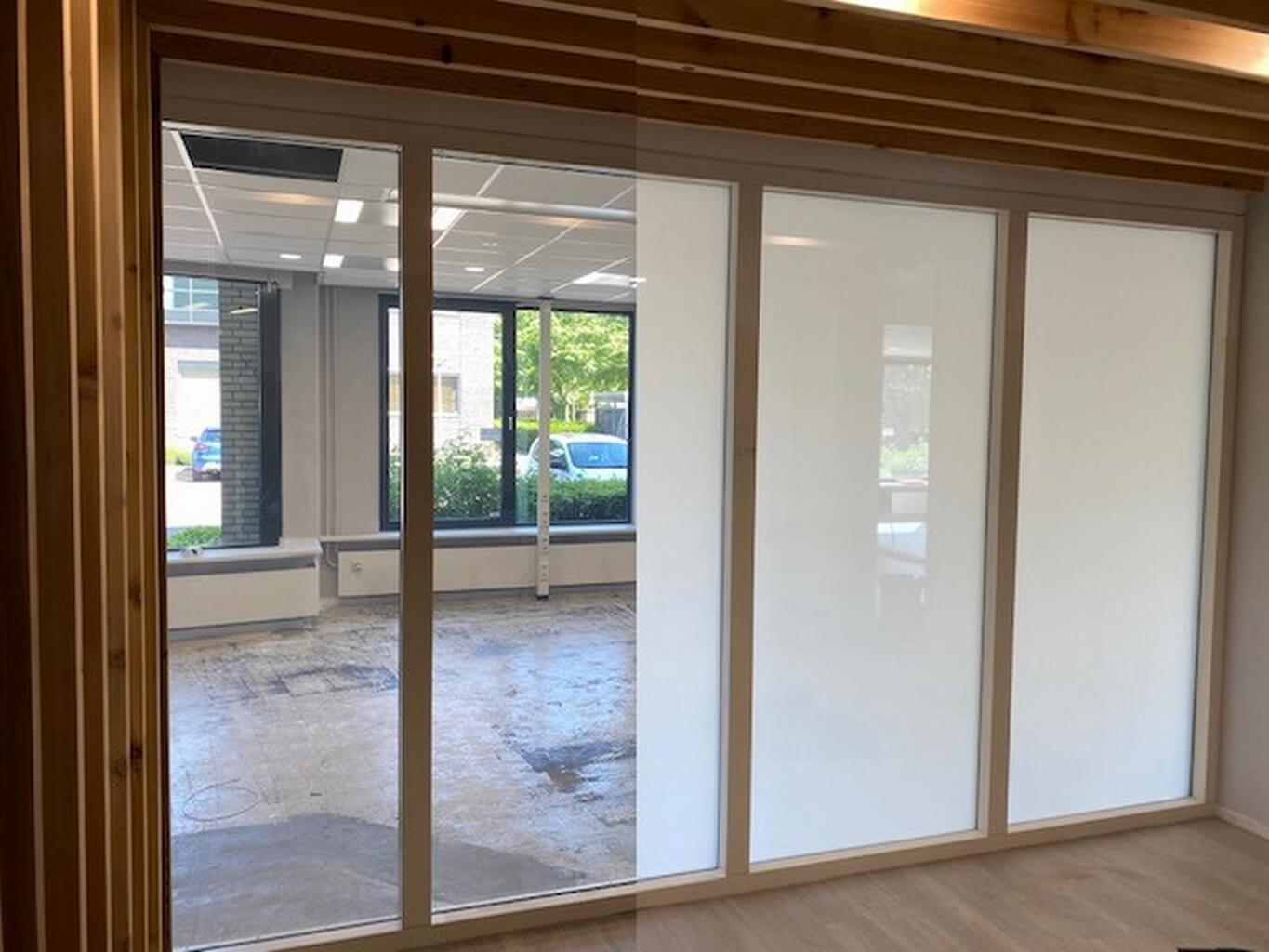 Comfort kan ook privacy betekenen: een besloten ruimte creëren, afgeschermd van inkijk. Bereik dit met Priva-lite, glas met schakelbaar doorzicht. Zowel toepasbaar in isolatieglas als in een glazen scheidingswand.
Priva-lite - hoe werkt het?
PRIVA-LITE  is een interactieve beglazing die naar wens privacy of doorzicht biedt.
Het is gelaagd glas waarbij tussen de beide glasbladen een folie met vloeibare kristallen -liquid cristals LC- is aangebracht. In isolatieglas is ofwel de buitenruit of de binnenruit de Priva-lite-ruit.
Door een elektrisch signaal (100VAC) worden de vloeibare kristallen gericht. Dit glas schakelt dan onmiddellijk van ondoorzichtig (UIT-stand) naar doorzichtig (AAN-stand). Zonder spanning heeft de beglazing een natuurlijke opaalkleur. Het is dan ondoorzichtig maar wel licht doorlatend.
voordelen
instant privacy dankzij een eenvoudige schakelaar
biedt tegelijkertijd een inbraakvertragende, geluidswerende, kogelwerende of brandwerende klasse omdat het geldt als een P4A gelaagd veiligheidsbeglazing
zeer laag electriciteitsverbruik: 24VA/m2
houdt 99% van de UV-stralen tegen
toepasbaar als projectiescherm
hoe het juiste glas kiezen?
Het schakelbare glas wordt geleverd als een compleet systeem: de transformator(en), inclusief verlengkabel(s), de specifieke siliconen, de draadloze wandschakelaar(s) van afstandsbediening en een instelbare klok.
Het PRIVA-LITE gamma:
CLASSIC




De lichttransmissie in ON of OFF is identiek.




Maximale

afmetingen: 1000 x 3000 mm.

XL


Geeft meer privacy in de OFF-stand. (Lichttransmissie: 50%).


Maximale

afmetingen: 1500 x 3000 mm.

COLOR




Met toevoeging van transparante veiligheidsfolies.

Het resultaat: een gekleurd doorzicht!

De COLOR is beschikbaar in twaalf speciaal ontworpen kleuren.

ZONING




Het doorzicht wordt dan nog creatiever schakelbaar door de glasplaat op te delen in zones.

Deze techniek laat toe om een ​​interactieve functie toe te voegen aan het privacy-glas.
Vragen? Neem contact met ons op, wij vinden altijd de juiste glasoplossing!