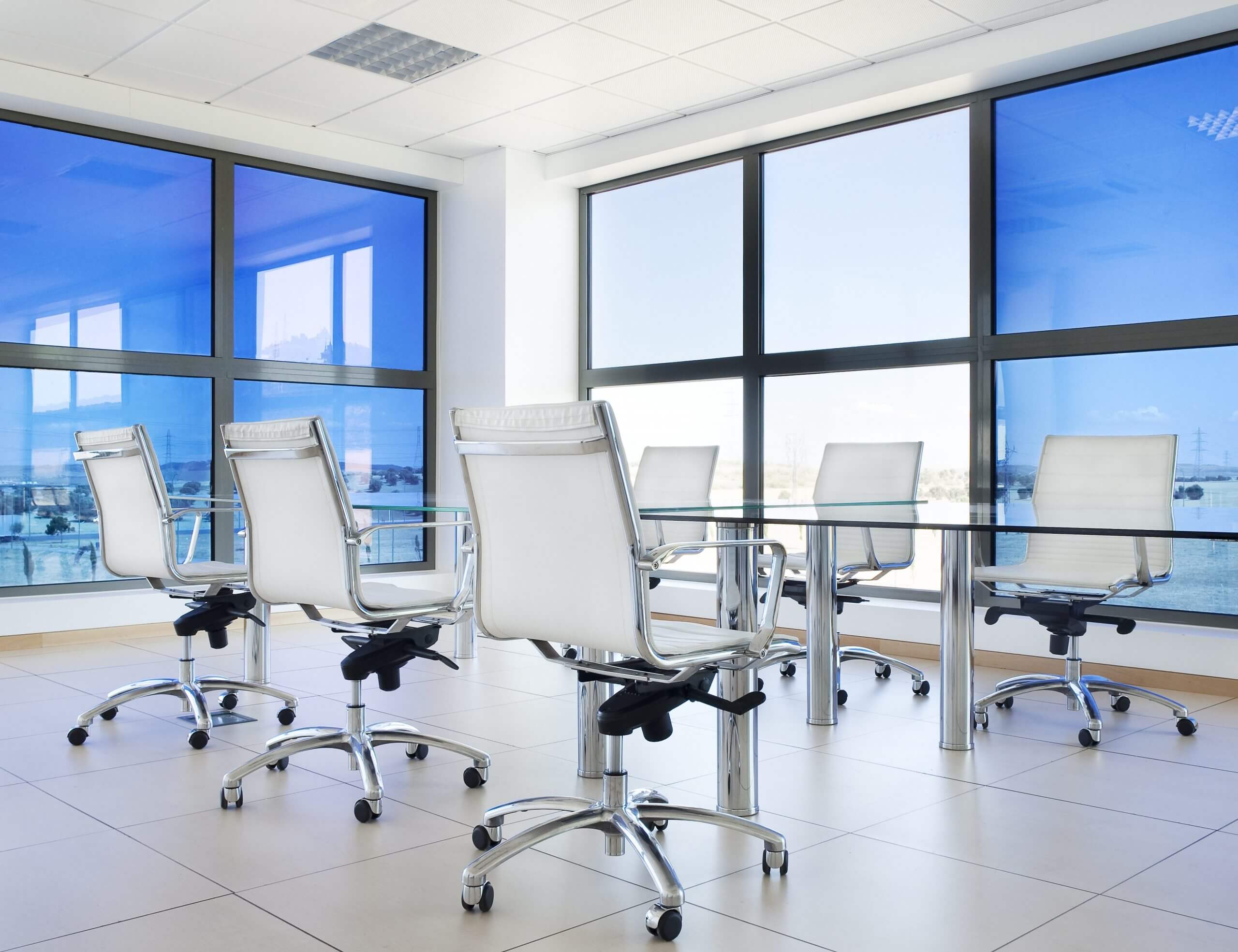 SageGlass, electronisch aanstuurbaar zonnewarmtewerend glas voor state-of-the-art gebouwtechnologie.
Deze beglazing helpt bij het creëren van een functionele binnenruimte door warmtetoename en verblinding te beheersen, zonder afbreuk te doen aan het doorzicht! Mechanische zonweringssystemen zijn niet nodig waardoor het architecturaal gevelontwerp in tact blijft.
Dit elektronisch tintbaar glas zorgt on demand voor de regeling van zonlicht en voorkomt warmte en verblinding zonder dat schermen of beschaduwing nodig zijn. Het is mogelijk 91% van de zonnewarmte te blokkeren, zonder afbreuk te doen aan het doorzicht.
De vier standaard kleur-tinten voor de verschillende stadia zorgen met een naadloze tintovergang in de gevel voor gerichte zonneregeling, maximaal daglicht en een uitstekende kleurweergave in het interieur. De natuurlijke tint van donker naar licht kan van boven naar beneden lopen of van beneden naar boven. Dit is afhankelijk van waar warmte- en verblindingsregeling nodig is.
Het buitenste glasblad van het dubbele- of drievoudige isolatieglas is voorzien van meerdere laagjes speciale metaaloxide coating. Het glas wordt donker door de werking van het oxidatie/reductie principe: zodra er lage spanning door de coating wordt geleid, verplaatsen de ionen zich van de ene laag naar de andere, waardoor de coating wordt getint en de hoeveelheid inkomend daglicht verminderd wordt. Door de polariteit van de toegepaste spanning om te keren, verplaatsen de ionen zich naar hun oorspronkelijke positie en krijgt het glas de heldere staat terug.
hoe de juiste glaskeuze maken?
Elektronisch tintbaar glas kan worden toegepast in IsoPerform, dubbelglas of TriplePerform drievoudig isolatieglas.
Het buitenste glaspaneel is 6 mm en voorzien van de speciale coating en kan niet worden gewijzigd. Het glaspaneel aan de binnenzijde is 6 mm helder gehard (SafePerform) of gelaagd (ProtectPerform) veiligheidsglas met een Low-E coating voor de effectieve isolerende werking.
Dit type beglazing wordt vaak toegepast als plafondhoge gevelbeglazing. Dit vereist de toepassing van veiligheidsbeglazing.
Kom in contact met ons. Wij helpen u graag tot een verantwoorde glasoplossing.
Afmetingen:
Minimaal: 457 x 457 mm

Maximaal: 1520 x 3050 mm

Alleen beschikbaar als rechthoek
Glasdikte:
Minimale dikte 20 mm.
Het glas wordt geleverd in de gebruiksklare afmetingen. Verder bijsnijden of boren is niet mogelijk.
architecten adviseurs
 
 
E Reinout.Jansonius@vandaglas.com
M 06 41 90 12 76
 
E Roel.Bosch@vandaglas.com
M 06 51 57 83 32
sales architecturale gevelbeglazing
 
E Rene.Goossen@vandaglas.com
M 06 21 89 72 37
 
E Theo.Dettingmeijer@vandaglas.com
M 06 82 50 26 32