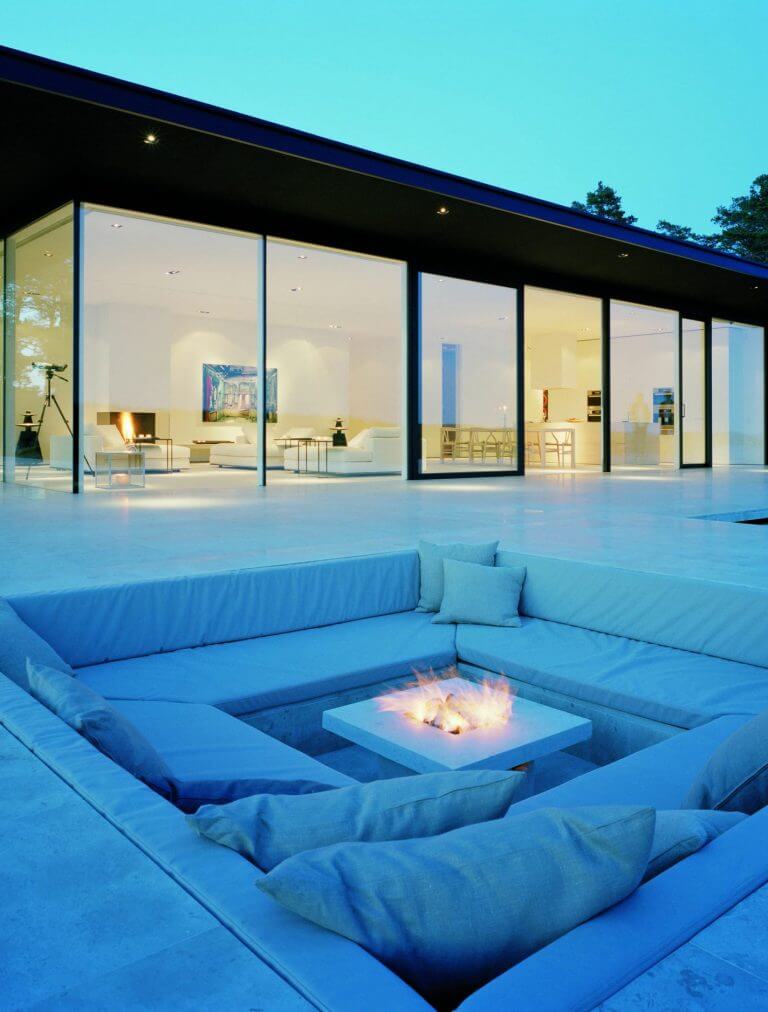 glas met ingebouwde verwarming
De gevelbeglazing als warmtebron.
Verwarmbaar glas zet stroom om in warmte. Het is in eerste instantie ontwikkeld om in gebouwen, op de koudere werelddelen, stoomcondensatie op het glasoppervlak of een sneeuwkap op het dak of het dakraam te vermijden of te laten verdwijnen.
Toepassingen hebben aangetoond dat verwarmbaar glas ook het thermisch comfort in het gebouw kan waarborgen door het koude raameffect te elimineren.
Het werkingsprincipe van deze elektronisch gestuurde beglazing is gebaseerd op de toepassing van twee elementen:
elektrische stroom, en
een emissiearme -tinoxide- coating van metaaloxiden op één van de glasoppervlakken bedekt. EGLAS-ruiten zijn elektronisch gestuurde beglazingen of gelaagde panelen die warmte afgeven.
Zodra de electroden aan het verwarmende oppervlakte van het dubbele of drievoudige isolatieglas worden geactiveerd straalt de dunne tinoxide coating aan de spouwzijde, warmte uit naar de tegenoverliggende zijde.
Afhankelijk van de samenstelling kan de warmte naar binnen of naar buiten worden gericht. Zo kan sneeuw worden gesmolten, condens worden voorkomen of een warmtebron worden gevormd. Op basis van de functie worden de afmetingen en het vermogen van het glas bepaald.
De gelaagde versie wordt vaak gebruikt voor scheidingswanden die beide kanten warmte uitstralen.
toepassingen
Buitenbeglazing: dubbel of triple isolatieglas van gehard en gelaagd glas. Gevels, dakramen, serres, vloerglas.
Interieur: interne scheidingswanden, deuren,  glazen vloeren en als gehard en  meerlaags gelaagd veiligheidsglas.
voordelen
geen koude raamoppervlakken
voorkomt stoomcondensatie
stabiele, gelijkmatige verwarming
afgifte van aangename warmte
geen ijskoude sneeuw op het dak bij toepassing als dakbeglazing
ruimte-efficiency - binnen is geen extra verwarming nodig

 
hoe de juiste glaskeuze maken?
Verwarmbaar glas is verkrijgbaar in IsoPerform dubbel isolatieglas of TriplePerform drievoudig isolatieglas. 
Het verwarmend glaspaneel is mogelijk in:
4mm tot 6mm SafePerform, gehard veiligheidsglas, of
 ProtectPerform, gelaagd veiligheidsglas.
Combinatie met andere eigenschappen als zonnewarmtewerend, geprint, gezeefdrukt of met schakelbaar doorzicht is mogelijk.
overige productinformatie
wordt geleverd in de gewenste afmetingen. Daarna is versnijden of boren niet mogelijk.
afmetingen: van 300 x 300mm tot en met 2170 x 4000mm (2470 x 4800 mm op verzoek)
glasdikte: minimale dikte is 16 mm voor isolatieglas en 9 mm voor gelaagde uitvoering.
electrische aansluiting: de electriciteitsdraad komt vanaf één van de glashoeken, tenminste 150mm ervan verwijderd
onderhoudsarm en gemakkelijk schoon te maken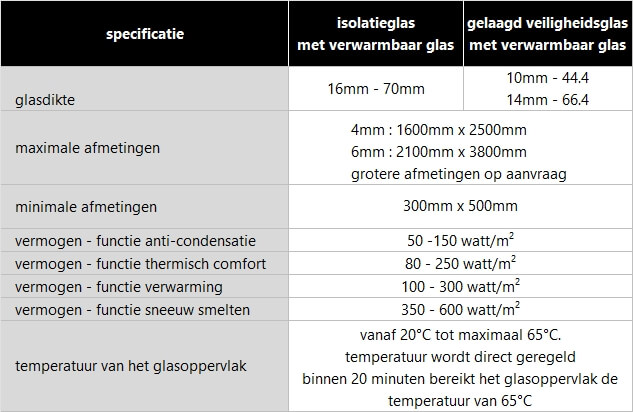 Vragen? 
Neem contact op, wij helpen u graag de juiste glas keuze te maken.