condensatie aan de buiten- of binnenzijde
Ook bij isolatieglas kan condensvorming optreden. Dit vormt geen enkel probleem. Aan de buitenkant is het vooral een indicatie dat het glas goed werkt, aan de binnenkant kan het een indicator zijn dat de luchtvochtigheid niet optimaal is. Hoe zit het ook alweer?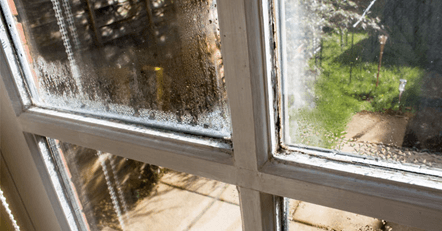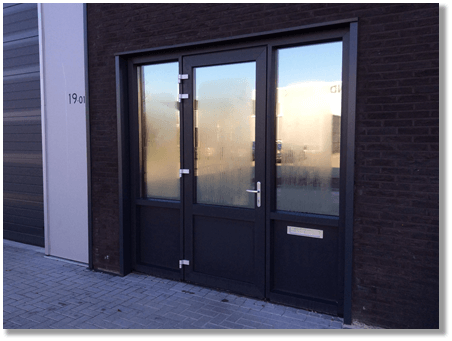 CONDENS AAN DE BUITENZIJDE
Na een koude, heldere en windstille nacht kan de beglazing 's ochtends condens vertonen aan de buitenzijde (in glasjargon 'zijde 1'). Dit gebeurt als de oppervlakte temperatuur van de buitenruit van het dubbelglas veel lager is dan de buitentemperatuur, én als het dauwpunt (=temperatuur waarop waterdamp vloeibaar wordt) van de buitenlucht hoger is dan de temperatuur van het glas.
De oppervlakte temperatuur van de buitenruit hangt onder andere af van de warmtestroom door het glas van binnen naar buiten. Hoe beter de ruit aan de kamerzijde het warmteverlies door het glas heen tegenhoudt, hoe kouder de buitenruit blijft. Komt de glastemperatuur van de buitenruit beneden de buitentemperatuur en wordt het dauwpunt bereikt dan beslaat de buitenruit.
HR++ glas heeft een binnenruit met een speciale Low-E coating, die het warmteverlies van binnen naar buiten minimaliseert. Dit warmteverlies wordt uitgedrukt in Ug. Hoe lager de Ug hoe beter de warmte isolerende werking van het glas.
Condensatie aan de buitenzijde kan, afhankelijk van een aantal omstandigheden, gemiddeld 20 tot 40 keer per jaar voorkomen. Hoewel sommige mensen de condensatie aan de buitenzijde hinderlijk vinden, is het feitelijk het natuurkundig bewijs dat het isolatieglas goed werkt.
Op het moment dat de temperatuur stijgt of het begint te waaien zal de condensatie vanzelf verdwijnen. Zie het dus als een "klein ongemak " naast alle voordelen die goed isolatieglas biedt voor mens en milieu!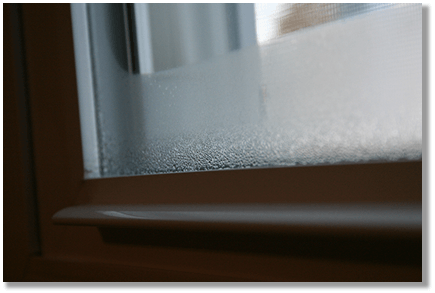 CONDENS AAN DE GLASRANDEN
Ook kan het bij koud weer voorkomen dat de beglazing alleen langs de glasranden aan de binnenzijde condens vertoont. De aluminium afstandshouder fungeert vanwege de sterk geleidende eigenschap als koudebrug waardoor de binnenruit langs de rand sterk afkoelt.
Door het toepassen van een "warm edge" afstandshouder behoudt het glas aan de binnenzijde langs de randen een hogere oppervlakte temperatuur en wordt het risico op condensatie en vorming van vocht veel kleiner. En de kans op schimmelvorming op het kozijn ook. Wel zo goed voor het schilderwerk dus.
CONDENS AAN DE KAMERZIJDE
Niet alleen de buitenzijde maar ook de kamerzijde van de beglazing (ofwel zijde 4) kan beslaan. In dat geval kan de isolatiewaarde van het glas wel goed zijn, maar is er een probleem met de relatieve luchtvochtigheid binnen. Dit kan ontstaan door nieuwbouwvocht (in net opgeleverde gebouwen) of de aanwezigheid van veel personen in één ruimte. Ook door koken en douchen neemt de hoeveelheid warme en vochtige lucht in huis toe. Een luchtdicht gebouw houdt weliswaar de kou tegen, maar zorgt er ook voor dat er minder droge lucht binnenkomt. Dit kan weer leiden tot gezondheidsklachten. Goede ventilatie, voldoende verwarming van de ruimten en goede afvoer van overtollig vocht dragen bij aan een gezond binnenklimaat.