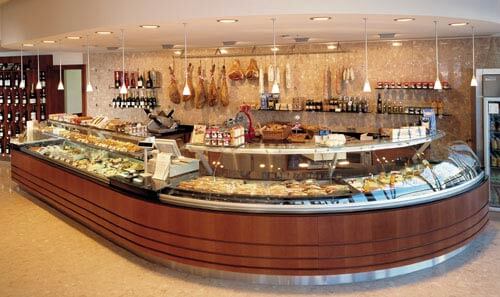 CurvePerform Deliz | Shop counters
Almost touchable tempting treats.
CurvePerform | standard forms for shop counters
CurvePerform is curved annealed glass (floatglas). 
| standard forms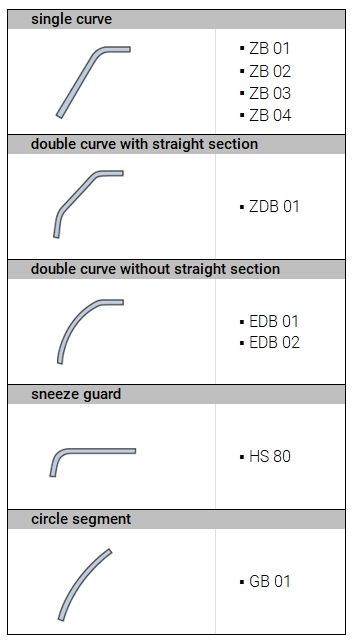 CurvePerform | ball corner
Spherical panorama ball corner, followed by planar front glass which is double-bent.

Photo: Ball corner counter in Luxembourg
Profiles: patent of the company Schweitzer Ladenbau

 
horizontal

lower radius = 2960 mm
upper radius =2515 mm
angle =11,9°
bottom floor length =614 mm

vertical

1st radius = 500mm
2nd radius = 800mm
1st angle = 27,8°
2nd angel = 37,0°
floor length = 675mm

K1 = polished
K2 = seamed
K3 = polished
K4 = polished

Please contact us to learn about our customized possibilities. We are happy to assist you!
Due to the multitude of possible geometries and the different structural changes resulting from it, there are no generally approved superstructures with regard to sound insulation and safety as there are for planar glass.
As a rule the approved features of planar glass which was manufactured with the same process and consists of the same components are taken as basis.
The manufacturer points out that the curved unit has not been subject to inspection. In practice this is sufficient for constructors and approval agencies.
Exceptions:
Elevator construction – fall safe glazing in the traffic area
Overhead glazing
In general it has to be expected that the resistance and safety features of curved glass are better than those of comparable planar glass. The resistance increases as the radius is smaller.
Meet our Expert Team Curved Glass
Our dedicated people will be at your service for any curved glass inquiry