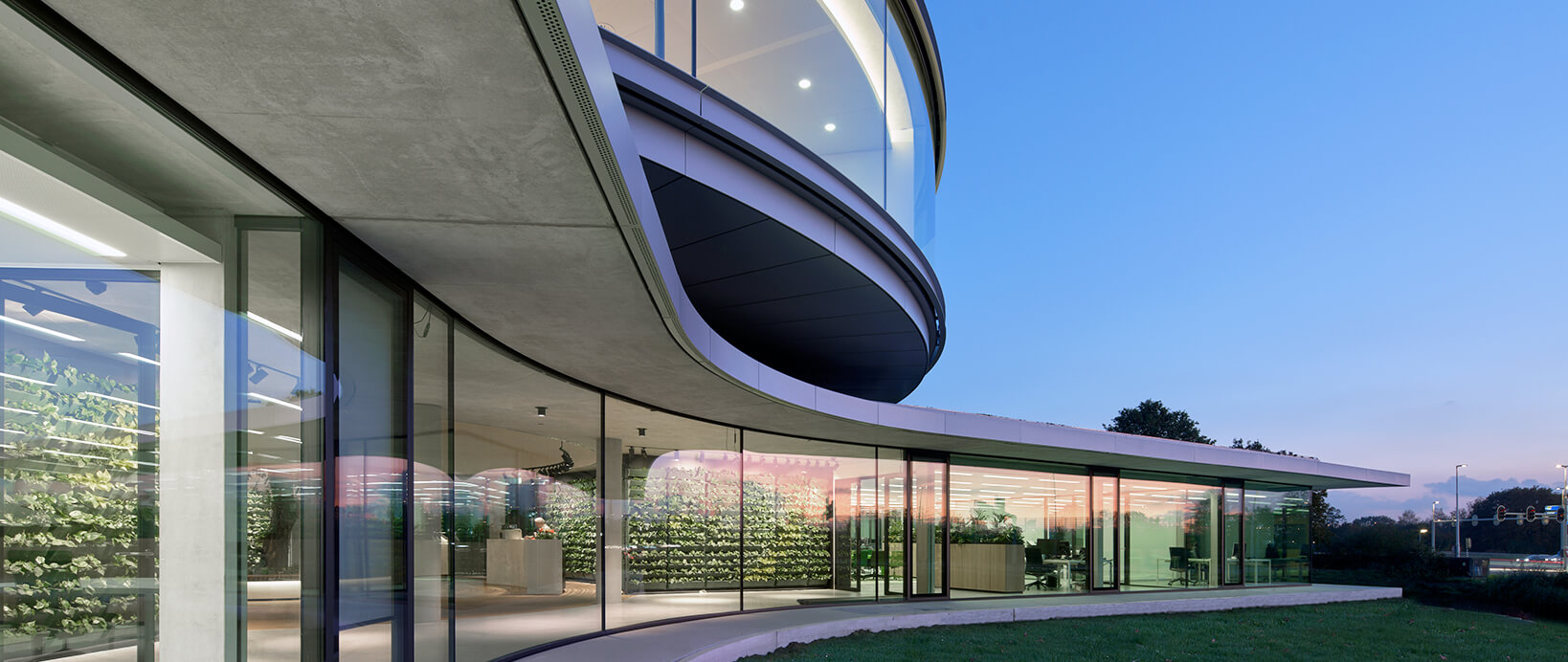 Curved double or triple glazing for building designs with soft shapes, smooth bended lines and with an impeccable view.
architectural facades and curved glass
impeccable quality | the Döring-brand stands for custom-made high quality curved glass products. Bending glass is a craftmanship in which the glass is being heated up to the melting point, curved according to the angle of the mold and slowly cooled down. This is a very accurate operation.
It is often the 'burning' of the low-e/solar control coating that causes or emphasizes a disfigurement in the transparency. The smaller the curving inner radius, the more difficult is the bending process as it increases the risk the coating will burn.
Disregarding the size of the panes or the inside radius, the Döring brand delivers curved glass products without any distortion of the view! Throughout their 90 years existence,  our Döring expert team has uniquely proven it truly masters the process of bending glass up to XL sizes on a uniquely high level.
curved insulation glazing | insulating glass is available in cylindrical, conical and sphericle bending. This can may be composed of different glass types achieving various protecting qualifications in one and same unit together. Several notable characteristics can be reached and individually adapted to functional requirements, e.g.:
sun protection (to do: link)
heat protection (to do: link)
noise protection (to do: link)
safety (e.g. guarding against falling, (to do: link)
security (burglar resistance, bullet resistance) (to do: link)
fire resistant (to do: link)
It is optimally selected according to the necessary technical defaults. The maximum producible dimensions depends on the requested glass shape as well as used glass types. At the moment we are able to achieve a Ug-Value up to 1,1 W/m2K for double-glazed units in accordance with DIN EN 673. With an curved triple-glazed unit, even a Ug-value up to 0,5 W/m2K in accordance with DIN EN 673 is possible.
The feasibility, as well as the technical values of curved glass depends decisively on several factors, which among themselves in dependence. These are the glass structure, type of glass, glass size, bending angle, radius and glass thickness.
Please learn about our extensive possibilities. Do not hesitate to contact our experts if you need more information or support. We are happy to assist you!

*Notice: limits of size, dimensions, possible glass thickness and bending angles are determined according to individual arrangement and thorough technical examination. Restrictions in the form of shape must be expected. Tolerances according guidelines for thermally-curved glass in the building industry from  Bundesverband Flachglas. (BF Bulletin 009/2011Revision index 1 - März 2017).
| | |
| --- | --- |
| | - general overview technical information |
| | - customer form shape description |
| | - datasheet CurvePerform |
production characteristics of Döring
Production with Super Spacer ® TriSeal
No-metal spacer system, which consists of flexible silicone foam
Warm-edge-technology, thereby excellence features in thermal isolation
Double edge seal
Glass superstructures are often subject to geometry
Gas filling (Argon, Krypton) available at Döring
Level insulation with UV-resistant edge seal
The closer the radius, the smaller the format, the higher the load on the edge seal due to the flexural strength (less pumpable)
Calumen (Ug, Light transmission, etc.) values can only be mentioned according to values of comparable planar glass superstructures
Specific requirements to glazing rebate: see technical instructions
vandaglas Döring produces insulating glass units in accordance with EN 1279.
For more information of marking products please contact: doering@vandaglas.de
cavity width: • 6, 8, 10, 12, 14, 16 or 18 mm
filled cavity : air, argon, krypton gas-filled
Remark: technical modifications and errors excepted! 
additional glass features
To enhance your living comfort our curved insulation glazings can be expanded with one or multiple features : 
solarcontrol
warm-edge spacer
maximum daylight
injury safe
burglary proof
fire resistant
soundproof
decorative: enamelled
decorative : screenprinted
decorative: acid etched
range of thermal insulations coatings (low-e)
ThermControl stands for the vandaglas range of insulating glass with low-e coatings for thermal insulation. This insulating performance of the insulation glass unit is expressed in Ug.
The lower the Ug value, the better the heat insulation performance. Also read "the best glasstype for you".
| range of ThermControl coatings in IsoPerform (double glazing)
Reference composition for performance below: 4-15a-#4
4mm outer pane - 15mm cavity width, argon gas filling [a] - 4mm inner pane with coating [#] on cavity side.

| range of ThermControl coatings in TriplePerform (triple glazing)
Reference composition for performance below: 4#-15a-4-15a-#4
4mm outer pane with coating on cavity side [#] - 15mm cavity width, argon gas filling [a] - 4mm middle pane - 15mm cavity width, argon gas filling [a] - 4mm inner pane with coating [#] on cavity side.

Benefit from free solar heat during cold periods
For natural interior heating, in addition to optimal thermal insulation [Ug], you can also take advantage of the free incoming solar heat [g]: the higher the g value, the more solar heat the glass lets through.  Good for north- and east-facing facades. Read also:  your best glass choice.
Decrease cooling costs and enhance interior comfort during sunny periods
Decide for a low-e coating that comprises also blocks unwanted incoming sunheat. Read more : additional glass feature/Solarcontrol coatings
range of thermal low-e coatings with additional solar controlling feature
Decrease cooling costs and enhance interior comfort during sunny periods
Decide for a low-e coating that comprises also blocks unwanted incoming sunheat. Ideal for southwest oriented facades. Read more : additional glass feature/Solarcontrol coatings
| range of solar control coatings in IsoPerform double insulation glazing:
| range of solar control coatings in triple insulation glazing:

our experts at your service
Please contact our  expert team to support you