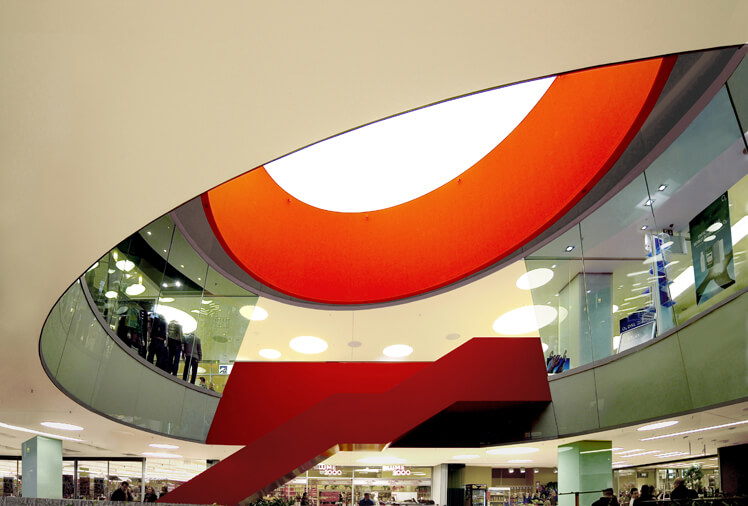 Laminated monolite curved glass for a safe constructive application.
Laminated safety glass comprises at least 2 panes bonded together with one or more interlayers of polyvinyl butyral (PVB) film. A single PVB has a nominal thickness of 0,38 mm. For the Protect-function of glass one PVB' will be applied with a total thickness of 0,76 mm. Laminated glass with different levels of safety and security can be obtained by varying the number and/or thickness of each of the components. If the glass breaks, the fragments of the glass are held in place by the PVB interlayers. In fully framed installations the broken glass retains a residual strength while awaiting replacement.
Laminating the glass panes with acoustical PVB's (PVB(A)(SI)) will give the glass a soundproof feature. To preserve the privacy or for noise cancelling.
Applications & Glass types
| Applications
In building construction:
 
In interior fittings:

revolving door systems
panoramic elevators
facade glazings
roof glazings
street furniture
oriels and entrance areas and so on.

 

balustrades
fencings
showcases (Jeweler)
decoration elements
partition walls
elevators
exhibit design and construction and so on.
| Glass types
Analog to float glass, limitations only with strongly structured cast glass:
all commercial glass thicknesses from 3mm to 19mm (dependent on the desired geometry);
float glass clear;
clear glass in all commercial glass thicknesses;
coated glass "Super-Vision";
body-tinted glass (e.g. Parsol);
cast glass (with some limitations);
decoration glass (e.g. with screen printing);
frosted/satin finished glass.
Due to the multitude of possible geometries and the different structural changes resulting from it, there are no generally approved superstructures with regard to sound insulation and safety as there are for planar glass.
As a rule the approved features of planar glass which was manufactured with the same process and consists of the same components are taken as basis. The manufacturer points out that the curved unit has not been subject to inspection. In practice this is sufficient for constructors and approval agencies.
Exceptions:
Elevator construction – fall safe glazing in the traffic area
Overhead glazing
In general it has to be expected that the resistance and safety features of curved glass are better than those of comparable planar glass. (increasing - the closer the radius)
Approved safety features CurvePerform Protect laminated glass
(related to planar superstructure PVB-AF-Trosifol)

Please learn about our extensive possibilities. Do not hesitate to contact our experts if you need more information or support. We are happy to assist you!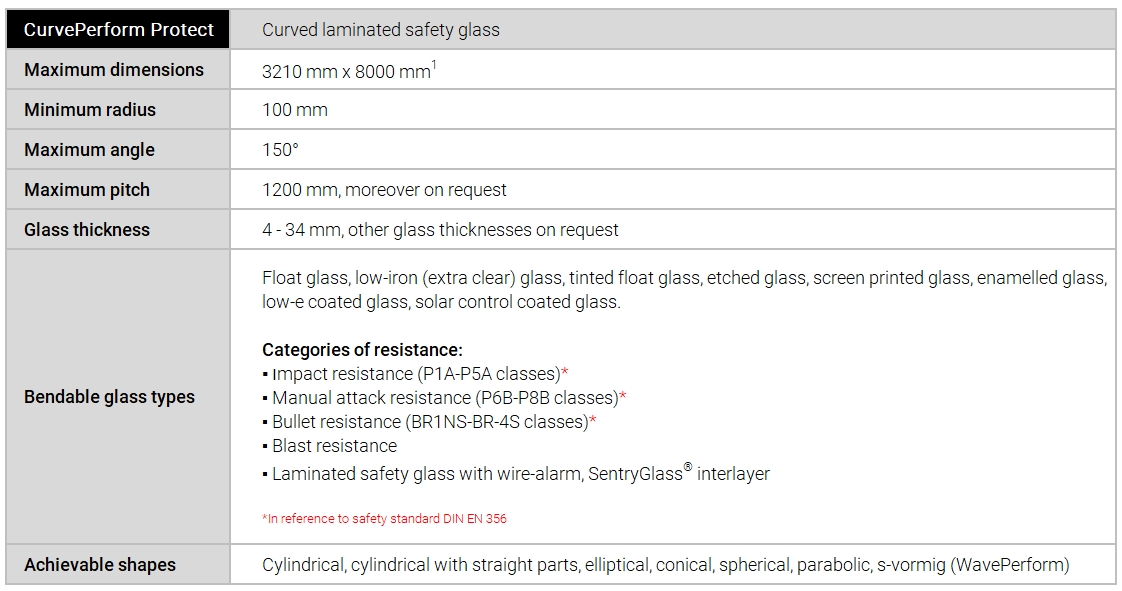 1Notice: limits of size, dimensions, possible glass thickness and bending angles are determined according to individual arrangement and thorough technical examination. Restrictions in the form of shape must be expected. Tolerances according guidelines for thermally-curved glass in the building industry from  Bundesverband Flachglas. (BF Bulletin 009/2011Revision index 1 - März 2017).
| Downloads
| | |
| --- | --- |
| | Click to find our relevant documents › |
Meet our Expert Team Curved Glass
Our dedicated people are at your service for any inquiry on curved glass