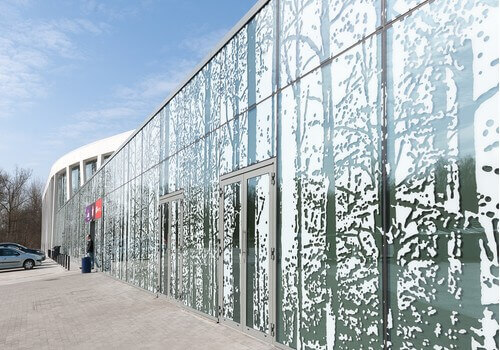 Attractive partial customized transparency for interiors and exteriors
What is screen printed glass?
Screen-printed glass is tempered safety glass to EN 12150. The enamel colour is fused into the glass surface and is available in partial or complete coverage. Design creates an individual atmosphere – from conservative to bold images, whereby depending on transparency or translucency of the colours and patterns it is possible to accentuate the design effect. The vast range of available glass substrates allows creative choices to be made not only from the standard pattern collection but also custom designs to be printed.
Screen printed glass is -as with the characteristics of enamel - colour-fast, light and weather resistant, resistant to temperature swings, it is maintenance free fulfils the requirements of Austrian Standard ÖNORM B 3710 and other national standards (USA, UK etc.) as a safety glass.
| Ideal for creative interior design
Designers and architects are now often finding the use for glass in interiors. Its transparency and particular aesthetic pretends over an enormous design potential. The architectonic play between colour, surface reflections and light accentuate space and function.
For exterior applications we strongly recommend carrying out Heat-Soak Testing.
Extract of standard collection
For basic design purposes there are 32 standard designs to choose from.
design 511
design 513
design 521
design 541
design 554
design 555
design 557
design 560
The standard range covers a choice of 50 color tones – the majority of which comprise of ecological and lead-free components. But you can take your pick - almost any color can be achieved.
Note: due to specific aesthetics of glass, the appearance of the colours in our publications is only indicative. Internet technology may cause deviation in appearance. Before ordering we recommend obtaining a reference sample. Samples of glass in standard colours on Float are available. The use of Low-Iron, extra-white DIAMANT glass instead of regular Float glass lends the colours optical brilliance and allows narrow colour tolerances.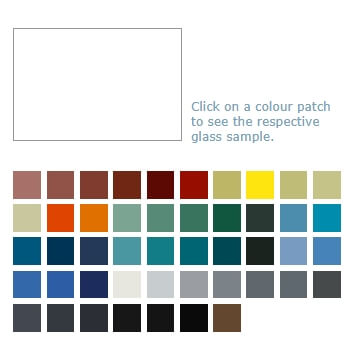 In order to provide you with a better idea of your thoughts on colour and design, take a look at our virtual design studio.
Color range transparant, translucent and opaq
| Transparant screen print
With the screen printing standard colours it is possible to achieve extremely uniform pastel tones. The ambivalence between transparency and translucency creates a new aesthetic, which is characterised by its soft contours and imaginitive boundaries.
The special coating of transparent enamel is normally applied over the whole surface.
color  BFT601WS
color BFT602WS
color BFT502WS
color BFT102WS
color BFM900WS
color BFT1WS
 
color BFT302WS
 
| translucent
With screen printing translucent standard colours, it is possible to achieve translucent, light transmitting solutions, which appear similar to an etched glass. The coating is – in contrary to etched glass – not sensitive to soiling and finger prints and is cleaned like normal glass.
The following basis glass types can be used for the production of our screen printed glass:
float glass
tinted float glass (grey, green , bronze, blue)
extra clear low-iron glass
anti-reflective glass
coated glass (hard coating)
etched glass
cast glass (MASTER-CARRÉ, MASTER-POINT, MASTER-LENS, MASTER-RAY)
mirror glass:
Exciting design possibilities present themselves with the use of fully-coated glass of MIRASTAR chrome-mirror in combination with SERALIT LITEX [>]. This is available in the following standard colours BF 1WS white, BF 1WW black, BFA 015WS beige. Maximum production size:
1500 x 3000 mm
 
[TO DO: ASK BIRGIT ASPALTER TO REDESIGN HANDBOOK TOLERANCES]
For creative Facade and Interior designs
| Dimensions
float glass in thicknesses 6/8/10/12mm*
minimum
200x300 mm
maximum
2800x6000mm
float glass in thickness 5mm
minimum
200x300 mm
maximum
2000x4000mm
float glass in thickness 4mm
minimum
200x300 mm
maximum
2000x3600mm
cast glass in thicknesses 6/8/10/12mm**
minimum
200x300 mm
maximum
1500x2500mm
large format cast glass and float glass in 15mm and 19mm thickness on request screen printed TwinView maximum 1500x3500mm
from cast glass - standard roller application
glass thicknesses 6mm / 8mm / 10mm
maximum
200x300mm
minimum
1500x2500mm
glass types:
MASTER-POINT, MASTER-LENS in thickness 6/8 mm
LISTRAL L in thickness 8/10 mm
CREPI 504 in thickness 6mm
| Application notes
Screen printed glass is manufactured as fully tempered safety glass as standard to EN 12150-1.
A Heat Soak Test acc. to EN 14179-1 with marking enamelled glass-H can be provided if ordered.
We strongly recommend carrying out Heat-Soak Testing. The statutory code an standard requirements of using such glass are usually specific to the country and location of the installation. The purchaser must ensure that all such requirements are fulfilled and specified before buying.
The thermal tempering implies that subsequent work such as cutting, grinding, or drilling etc. may not be carried out on the glass. These operations will certainly cause breakage or significant weakening of the material characteristics! All additional work to the glass must therefore be carried out prior to the tempering process.
| | |
| --- | --- |
| | phenomenon spontaneous breakage |
| Explanations
It is normal for the screen printed surface to be installed away from the weathered side. The intended viewing side is always outside (weather-side). Applications deviating from this in respect of characteristics and use are to be requested on a specific basis, in particular:
use in vision areas (viewing from both sides, e.g. partitions, ...)
use with back-lighting
edge quality and free-standing edges
Detailed information regarding assessment of colour rendition, notes on applications etc. can be found in the guidelines for determining the visual quality of enamelled and screen-printed glass. Notes on applications can be found under chapters 7.1.1 and 7.1.2 and 7.2 of our Handbook Tolerances [>].
| | |
| --- | --- |
| | handbook tolerances |
| Samples
Colour differences may be apparent between samples and actual project deliveries because the self-colour of the glass, its thickness and surface structure can influence the colour. This can also be different in intensity depending on the colour chosen. It is therefore clear that when colour differences exist between a sample and actual delivery it does not constitute a defect. In cases of doubt we recommend a full-size mock-up.
| Moisture uniformity on the glass surface
The surface moisture uniformity on the outside of the glass may vary e.g. due to imprints from rollers, fingers, labels, paper residue, suction pads, sealant residue, smoothing agents, separation agents or environmental influences. Moisture on the glass surface as a result of condensation, rain or cleaning water may have differing levels of uniformity. Such appearances are inherent characteristics and cannot be considered as defects.
| | |
| --- | --- |
| | - General glazing guidelines |
| | - General cleaning and maintenance recommendations |
| Edge working
Screen printed glass is supplied with its edges arrissed as standard.

When edges are ordered fine ground (KGN) or polished (KPO) they will have the corners swiped matt as standard.

 

Drilled holes

glass thickness up to 12 mm - the hole diameter (D) must not be less than the glass thickness (S).
glass thickness 15 and 19 mm – the hole diameter minimum 18 and 25 mm

Production restrictions apply for edge distances.
| | |
| --- | --- |
| | - Edge working |
| drilled holes
glass thickness up to 12mm - the hole diameter (D) must not be less than the glass thickness (S).
glas thickness 15mm and 19mm - hole diameter minimum 18mm and 25 mm
Production restrictions apply for edge distances
| | |
| --- | --- |
| | - Production restrictions on hole spacing enamelled glass |
Quality, marking & certification
| Quality
Our enamelled glass, being fully tempered HST from float glass, is subject to continuous internal and independent controls.
| | |
| --- | --- |
| | technical data screen printed glass |
| Marking
Our screen printed glass is not normally marked if it is not Heat Soak Tested. When marking is required it will be marked in accordance with the current Austrian Standards.
IMPORTANT: marking requirements outside of standards must be indicated prior to ordering.
| Certification
Harmonisation certification Fully Tempered–HST (ESG-H) fulfils the requirements of the German Building regulations A Part 1 2004/1 Appendix 11.4.2
vandaglas eckelt possesses all certification for such requirements in accordance with 89/106/EEC of the Council of the European Community. The applicable CE harmonization statements can be downloaded on the right.
| | |
| --- | --- |
| | certificate of conformity ESG-H |
| | CE conformity certification |
| | architectural testing - impact testing on safety glazing materials |
Our experts at your service
Do not hesitate to contact our experts. They are happy to be of your assistance:
 
E name.surname@vandaglas.de
M xx xx xx xxx
 
E name.surname@vandaglas.de
M xx xx xx xxx