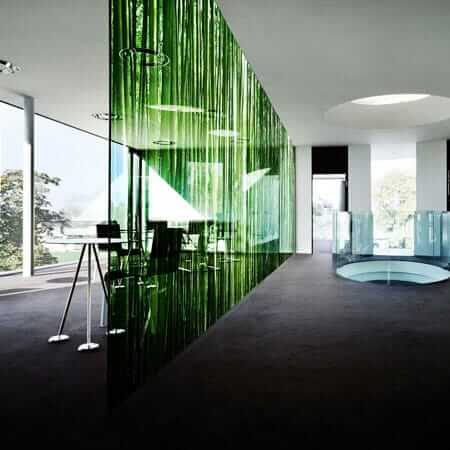 Design | Digital printing on glass
Unimaginable design on facades, partitions and foyers, to be seen on both sides of the glass.
HD through digital printing on glass
Inimitably good, and up until now unknown, adhesion qualities combined with photo-realistic resolution.
Digital printing on glass allows what until now were unimaginable forms in design on facades, partitions and foyers. As an individual accent in modern rooms, photo-prints on glass give a coloured brilliance and play with transparency and refraction in the material. For everyone's affordable unique pieces such as POS, displays and advertising, digital printing on glass makes them easily possible.
Images which can be seen from both sides of doors and partitions is possible even with our simplest solution. With distinct differences in brightness, we suggest using the backlit version which retains its translucency. Even a partial coverage brings an exciting ambience, as well as acid etched (matted) effects using graduated prints from 0 to 100 % can create discreet and soft moods.
For logos, displays or advertising boards with back lighting, practice has shown that a white background acts very well as a diffusor. The message becomes brilliant in its colour resolution. In this case viewing from the rear is not intended.
applications
facades | HD printing on glass is also available in double and triple insulating units. UV-stability allows large expanses of designs on facades – letting your fantasy run wild.
furniture
partitions
doors
exterior cladding
interior cladding
practical suitability has been proven
In alignment with the current glass standard EN 1279-2, our digital printing on glass has ability has been provenbeen positively tested over a period of 7 weeks at temperatures from – 18 to + 58 °C at a relative humidity of 40 – 100 %.
The abrasion-resistance was tested in alignment with EN ISO 1518 and achieved a scratch-resistance of 9-10 which is about 60 % of a ceramic coating.
Regular glass cleaner will not damage the thermo-fixed digital print.
| | |
| --- | --- |
| | Please download here our specific cleaning and maintenance guidelines for |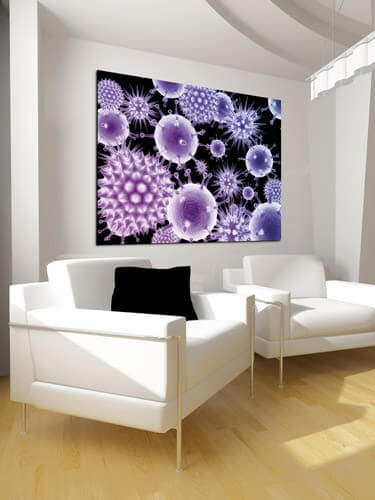 range of colours, dimensions & glass types
brilliant colours in a new light
Photo-realistic appearances on glass provide new design possibilities. 
a| colour space and print resolution: 
print resolution: 600 dpi
colour space: CMYK (4c), additionally white and acid etched (matted)
| | |
| --- | --- |
| | |
| CMYK | design |
b| dimensions:
maximum 4000 x 2050 mm
minimum 297 x 420 mm
dimensions below and beyond upon request
maximum glass thickness 19 mm
c| glass types
Please consult us for suitable glass types as substrates for digital printing.
Of particular recommendation is the "de-materialised" 
float glass
extra-clear low-iron
anti-reflective glass
body tinted float glass in colours grey, green, bronze or blue
etched glass
a| edge working
Standard edge working for digitally printed glass is arrissed.
Orders requiring ground edges (KGN) or polished edges (KPO) will have the corners of rectangular units matt flattened.
 

b| drilled holes
glass thickness up to 12 mm - the diameter of the drilled hole (D) may not be less than the glass thickness (S).
glass thickness 15 and 19 mm - drilled hole diameter minimum 18 respectively 25 mm
Production technical minimum edge distances are to be taken into account.
| | |
| --- | --- |
| | edge working |
| | production-technical minumum distances SafePerform tempered glass |
technical notes for application
The suitable glass substrates may typically be printed on surface #1 (viewing side) or surface #2 (rear side). This means that you can play specifically with reflecting or matt aesthetics.
a| standard
Characteristic for the appearance of the standard version of digital glass printing is the translucency of the colours. This allows the background to be brought into play, depending on the angle of viewing and lighting conditions. An ideal solution for interior room design, such as doors and partitions, which are normally viewed from both sides under similar lighting conditions.
b| backlit
At higher light intensities in the background, e.g. viewing against daylight, the standard colours may look too pale. In such situations we recommend using the "backlit"version. In comparison to the standard colours, these have less light transmittance, are printed heavier and therefore more colour intensive. A solution for externally-oriented applications in insulating units and interior space design e.g. infra-red or sauna cabins with different light intensities which are viewed from both sides.
c| white back-covered as diffusor
For single-sided views of images or logos we recommend a back-covering of the whole surface or only the printed image. The colour rendition is thereby more brilliant. When backlit by daylight or artificial light, the white background also acts as a diffusor. If lamps are very close behind the glass it is possible to use an "intensive white" back covering to achieve a very uniform distribution of light.
d| safety characteristics
Digital glass printing can typically be executed on normal substrate. The multitude of application possibilities will normally require some kind of safety glass to protect from injury or falling. We therefore recommend using SafePerform, fully tempered safety glass or ProtectPerform, laminated safety glass. With backlit applications or these in insulating units, it is probable that a greater load will be applied to the glass. These applications require a higher resistance to temperature change which necessitates the use of fully tempered SafePerform.
d| installation and use
When transporting, handling and installing it is important that no adhesive tapes, self-adhesive distance pieces or other strong-marking materials are put into contact with the printed surface. Storage of the glass in the open is to be avoided and we recommend that the glass is kept from being soiled until the glass is installed. This particularly relates to concrete, paint or weld-splatter.
Installation of digitally printed glass should be carried out – as per conventional glass – in frames with dry gaskets or frameless using fittings. Should wet-glazing with silicone (neutral curing) or stuck onto walls, we recommend that this is only carried out on the non-printed side of the glass. If direct contact between the printed surface and silicone or other sucdigitally printed glass. Until successful tests have been carried out by us, we recommend against use in such applications.
e| cleaning and maintenance
In addition to our general cleaning guidelines, the following points for the printed surface are to be observed: For typical regular cleaning using the wet method, we recommend lots of clean water at a maximum temperature of 50 degrees Celsius and using a household mild cleaning agent (e.g. liquid dish soap) without scouring agents. Mild glass cleaners can also be used. Regardless of the cleaning method used (wet or dry, water, soap suds or glass cleaner) only soft cloths are to be used. If sufficient liquid is used then it is also possible to use soft sponges or rubber squeegees. Unsuitable and prohibited are scouring or abrasive cleaning agents and cloths, or sharp, scratching metals tools such as blades, scrapers of knives.
| | |
| --- | --- |
| | Please download here our general cleaning recommendations |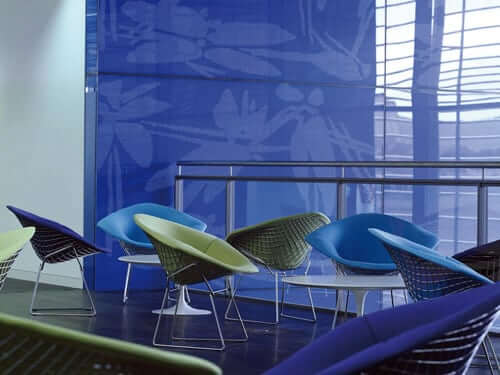 quality, marking & certification
a| quality
SafePerform tempered glass is subject to a continuous self and independent certification.
| | |
| --- | --- |
| | technical data SafePerform tempered glass |
b| marking
Digitally printed glass on untreated float glass or laminated safety glass of float glass is not marked as standard.
Should safety glass be used, then these are marked as standard as Tempered Safety Glass (ESG or ESG-H).
Please note! Should marking other than the standars be reuiqured, it is imperatie that this is given in writing at the time of the order. 
| | |
| --- | --- |
| | standard marking and location tempered glass |
| | standard marking and location tempered and heatsoaked glass |
c| certification
Harmonisation certification Fully Tempered–HST (ESG-H) fulfils the requirements of the German Building regulations A Part 1 2004/1 Appendix 11.4.2
vandaglas eckelt possesses all certification for such requirements in accordance with 89/106/EEC of the Council of the European Community. The applicable CE harmonization statements can be downloaded below.
Since the quality of the print is dependent on the original picture and the type of data sent by the customer, we use the customers data 1:1 without corrections for our high-resolution prints. Picture quality should not be below 72 dpi, image enlargement should be avoided.
Data formats: .tif, .ai, .psd
Particulars:
images provided in RGB-colour space are changed by ECKELT into CMYK using Adobe Photoshop. In case of doubt, the customer should request an original sample.
partial white backgrounds are not complete backgrounds in white or if intensive white on partial areas is desired then this should be provided on an Alpha-Channel (Extra-channel), otherwise these areas will remain unprinted (blank).
Data transfer: via ftp upload – ftp.eckelt.at
To receive a password for your data transfer please contact your representative.
| | |
| --- | --- |
| | Please download here our guidelines for data transfer for orders. |
our experts at your service
our consultants
 
E name.surname@vandaglas.de
M xx xx xx xxx 
 
E name.surname@vandaglas.de
M xx xx xx xxx