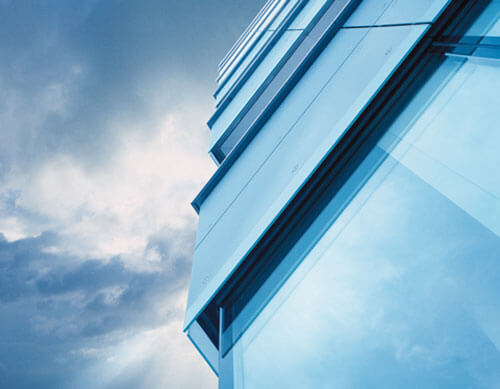 Systemised wall cladding.
1 | Systemised wall cladding
Structures or walls normally have differing amounts of expansion compared to the glass in front of them. Point-fixings must therefore be able to freely, and without stress transfer, accommodate temperature and load conditions.

With its patented* LITE-POINT solution, this system ensures a functional connection method whilst accommodating the principle of fixed and loose point fixing.

*European Patent: EP 0 972 891 A3

 
 

LITE-POINT is a facade wall cladding system typically used for glazed spandrel areas, renovation and interior cladding. The advantages of glass with its ability for weather- and ageing-resistance, colour trueness and the inherent sustainable value predestine glass as a wall cladding.

LITE-POINT requires no frame construction rather it is installed onto its subframe free of tension with flush-mounted point-fixings. The system allows ideal protection for insulation and excels because of its minimal installation effort.

The glass is anchored to the system subframe with flush-faced lite-point fittings. A tension-free connection is achieved with respect to expansion due to temperature fluctuations. Building and installation tolerances are simple to accommodate.
2 | System description
| | | |
| --- | --- | --- |
| |   | LITE-POINT system components comprise support brackets, vertical angled profiles and horizontal rail profiles as well as support points for fixed and loose fixings and include all necessary accessories such as washers and screws. |
The depth of the construction is determined by the thickness of the insulation and necessary ventilation pocket. Dimensions can be seen in the system section.
Exterior and interior corners as well as recesses have suitable system connectors available.
The anchors for connection of brackets to the wall are not part of the lite-point system..
To determine the ideal thermal insulation material visit the ISOVER website. A general recommendation can be downloaded here on the right side of the page.
| | | |
| --- | --- | --- |
| |   | - System appearance lite-point |
| |   | - System section lite-point |
| |   | - System components lite-point |
| |   | - General recommendations for lite-point façade units |
1 | Glass types
Technical regulations require lite-point  to use of fully tempered, HST (ESG) glass in thicknesses of 8 or 10 mm for fully tempered glass with heat soak test and 12 or 14 mm for laminated safety glass (VSG), which has a minimum of 4 and a maximum of 12 system connection holes.
The following glass types are available for a correct application of the technical guidelines:
fully tempered safety glass
laminated safety glass
coloured laminated glass
enamelled tempered glass
enamelled tempered glass with self cleaning coating
screen printed tempered glass
screen printed tempered glass with self cleaning coating
tempered patterned glass
low-iron (extra clear) glass
mirrored glass
tinted float glass in colours grey, green , bronze and blue
float glass
etched glass
Good thermal insulation on "face-lifting" renovations or new construction is easily improved through the use of passive solar energy gain, particularly when high energy transmission glass is used such as fully tempered glass with heat soak test from clear patterned glass or screen printed glass with minimal print coverage. With enamelled (tempered) glass it is possible to achieve attractive colours and patterns.
2 | Dimensions
Generally the glass dimensions will be determined from the wind loads (positive and negative) as well as the number of point fixings. From experience we recommend restricting the maximum dimension to 1800 x 2400 mm. The following practical dimensions as orientation: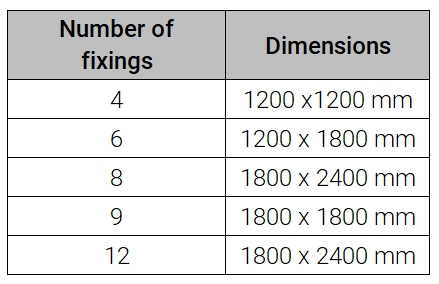 We are able to offer structural analyses for specific applications.
Edge working & Drilled holes
1 | Edge working
Screen printed tempered glass, enamelled tempered glass and fully tempered glass with heat soak test are supplied with their edges arrissed as standard.

When edges are ordered fine ground (KGN) or polished (KPO) they will have the corners swiped matt as standard.
2 | Drilled holes
LITE-POINT has countersunk holes as a system standard.
System restrictions on holes locations are to be considered.
Application & Design notes
1 | Application
With respect to the fact that lite-point  is a structural glass application, it is always necessary to carry out a structural analysis.
The necessary structural analysis for glass and support structure is the responsibility of the customer. The following company is recommended for Austria: Büro H+W Ziviltechniker GmbH and Büro GSK for Germany. For all other countries please contact your local representative.
2 | Design notes
Detailed drawings for all LITE-POINT system components can be downloaded at the range of lite-point fittings here.
Each glass fixing hole must be designed with the vertical Aluminium carrier profile (LP 1013) behind it. Taking eventual expansion into consideration, the length of this profile should not exceed 3 m.
Each glass fixing hole must be designed with a system anchor bracket behind it to act as support.
A suitable wall anchor (by others) is to be determined from the type of wall. We recommend pull-out tests to be carried out depending on the situation.
Please read the installation notes which can be found here on the right.
| | | | | | | | | | | |
| --- | --- | --- | --- | --- | --- | --- | --- | --- | --- | --- |
| |   | |   | |   | |   | |   | |
| bracket |   | angle |   | rail |   | lite-point fittings |   | joint washer |   | angle connector |
| | | |
| --- | --- | --- |
| |   | - Interface details lite-point |
| |   | - Installation notes lite-point |
| |   | - Test report nr. 10623420 from ift Rosenheim - resistance to wind load in accordance with DIN prEN 12211 (german version) |
|   |   |   |
1 | Marking
Screen printed tempered glass is marked in accordance with current technology.
DEVIATION FROM STANDARD MARKING OR STAMP LOCATION ARE TO BE AGREED AND GIVEN AT ORDER STAGE.
Each sheet of glass receives a quality stamp (indicator paint) in the corner of its leading edge. This patented indicator paint proves that the glass has gone through the HST process. Before the Heat-Soak-Test each glass edge receives a dash of special blue paint which under the test conditions – minimum of four hours heat-soaking at approx. 280 °C – turns beige-brown. This proves that the marked unit has really undergone the test. This facilitates a loophole-free control of every sheet of glass even prior to installation in the facade.
| | | |
| --- | --- | --- |
| quality mark before heat soak test (HST) |   | quality marking after heat soak test |
In accordance with EN 14179, all enamelled tempered glass is visibly and permanently marked.
In accordance with EN 14179 all Fully Tempered-HST glass is visibly and permanently marked.
| | |
| --- | --- |
| | - Standard marking and location lite-wall mono |
| | - Marking screen printed fully tempered glass with heat soak test for Poland |
| | - Standard marking and location enamelled tempered glass with heat soak test |
| | - Standard marking and location fully tempered glass with heat soak test |
b | Certification
LITE-POINT has test reports covering wind load resistance. Positive results have been obtained for glass sizes of 2,4 x 1,2 m at negative wind loads up to 4 KN/m².
| | | |
| --- | --- | --- |
| |   | - Handbook tolerances |
| |   | - General glazing guidelines |
| |   | - General cleaning guidelines |
| |   | - Cleaning and maintenance notes self cleaning glass |
Meet our Expert Team XL Glass & Glass Facade Systems
Our dedicated people are at your service for any inquiry on large glass sizes and facades with structural glazing.