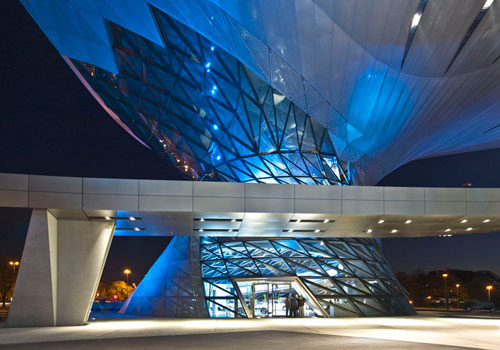 Glass architecture in its purest form.
| | |
| --- | --- |
| | Transparent glass facades or significant glass enclosures are a favorite means of architectural expression. Expansive facade surfaces are often broken down into smaller window-like surfaces by transoms and mullions – causing the desired liberality to be reduced. |
| Succesfully convinced
Flush-surfaced bonded glazing solutions have been successfully accomplished for decades and their style symbolises the image of the building. The first SSG facade in Germany was the Morandini facade for Rosenthal, supplied by ECKELT in 1984. After 10 years in service, the ift carried out a check and confirmed its complete fitness for purpose.
The initial scepticism raised by the authorities against structural bonding was settled by the introduction of quality control systems and technical regulations and the method has now become state-of-the-art technology for specialised processors.
| Approved by authorities
Glass-construction-bonding from supported and non-supported Structural Sealant Glazing has been regulated with respect to the technical requirements by the ETAG 002 (January 2002 Edition). Since such constructions are not yet covered by any harmonized EN Norm and therefore cannot be brought onto the EU market, the Austrian Institute for Building Technology (OIB) has affiliated such glass facades into their building material register ÖE Point 3.1.
Bonded glass constructions, which have an ETA permit in accordance with ETAG 002, are allowed to be used in Austria.
1 | Permitted facade systems
At this time we possess Schüco SFC 85 SG system, Schüco International KG FW 50+ SG and Wicsky 3 have received an ETA (European Technical Approval). vandaglas eckelt is a processor certified by IFT Rosenheim to carry out the bonding for these systems.
The permitted use and application of construction products is determined in the building material register ÖE published by the Austrian Institute for Building Technology (OIB). Construction products which have the European technical permit (ETA), may be used if they are in accordance with the specifics set out in the building material register. The building product Glass is regulated in Chapter 3, 3.1 bonded glass facades.
The significant requirements are:
possesses an ETA in accordance with ETAG 002
for DGU or Laminated glass only Type I (with support o self-weight) are permitted
only for single glass units Type III (with support of self-weight) is also permitted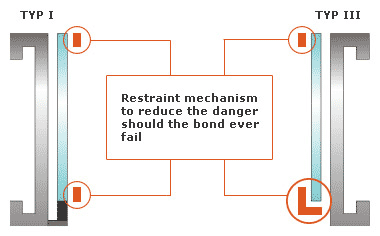 the required restraints to reduce the danger should the bond fail (mechanical safety) are, irrespective of installation height, always to be used.
the most important glass types are laminated safety glass or heat-soak tested monolithic tempered safety glass
Bonding of such systems may be carried out only by certified, independently audited companies. vandaglas eckelt  is certified by ift Rosenheim.
2 | Bonding without permit
For all other systems which do not have ETA (European Technical Approval) certification, approval must be sought from the local authority by the facade installer.
› basis:
Structural dimensioning of the bonding
Adhesion testing on original profiles/silicone with ETA certification 2-component silicone DC 993 (ETA 01/0005)
Factory internal control similar to ETAG 002 by ISO 9001 certified companies
› preferred bonding surfaces of profiles:
aluminium anodised
stainless steel
The original extrusion/profile (coating, anodising batch) is specifically tested for adhesion properties and approved by Dow Corning prior to bonding.
› permitted bonding surfaces of glass with Silicone DC 993:
float glass
coated glass COOL-LITE (SS 108, PB 114 N, ST 150), ANTELIO (clear, Silver)
enamelled tempered glass with heat soak test, screen printed tempered glass with heat soak test.
We recommend that only materials which have been tested for compatibility are used for Weather Sealing, e.g. Dow Corning DC 791.
| | | |
| --- | --- | --- |
| |   | - IFT conformity certificate - Bonding of SGG Systems |
| |   | - ETA 01/0005 Dow Corning DC 993 |
| |   | - General Building Control Permit Z-70.1-75 enamelled fully tempered glass with DC 993 (German version) |
Wood-glass-composite constructions
The warm-edge spacerbar  is standard for VARIO. The given U-Values are calculated with gas-filled cavities and gas-tightness to EN 1279-2 and substantiated in Test Report TC-RAP-06-18364.
Within the scope of the research project "Wood-Glass-Composite constructions (HGV)" by the wood research (Holzforschung) Austria, a foundation has been established for bonding onto wood. The result can easily be seen. The insights gained from this research allow WGC wall elements of wood and glass to be used as load-bearing elements in the glass plane. This even allows their use as load bearing elements in timber house construction within the building regulations.

This new method of construction is still technically unregulated since neither the ETAG 002 nor EN 13830 can be used directly. It is therefore necessary to seek approval from the local authorities for specific applications.

The recently completed residential project "Shadowbox" in the Viennese forest was awarded the Lower Austria prize for wood construction. The company Superreal – Superlab / Dold and Hasenauer were supplied by ECKELT, within the scope of the research project with VARIO Triple-glazed units with mechanical restraints including SSG bonding on patented interface profiles.

 

 

WGC as a load bearing element (German)

 

lower Austria wood building prize 2009 - shadowbox in Viennese Forest | Superreal - Superlab | Dold und Hasenauer OG
our experts at your service
Want to know more about XL glass from vandaglas Eckelt? Feel free to contact us: eckelt@vandaglas.at