15.000m2 zonwerende IsoPerform Sun beglazing
Het stationsgebied in Den Haag heeft er twee iconische gebouwen bij: Grotius I en II vormen samen het appartementencomplex The Roofs. Respectievelijk 120 en 100 meter hoog zijn de woontorens met hun bijzondere kronen nu al niet meer weg te denken uit de Haagse skyline. Wegens complexe eisen aan de beglazing schakelde gevelspecialist Alkondor de expert advisors van vandaglas in. Meedenken bleek hier minstens zo belangrijk als strakke levering van de duizenden vierkante meters beeldbepalende ruiten.
The Roofs: focus op zon en zicht
De duurzame woontorens hebben gevels van natuursteen en hout, behalve woningen ook een transparante commerciële plint met horeca en dienstverlening en een ondergrondse parkeergarage. Het ontwerp was in handen van MVRDV Architecten, bekend om hun experimentele en creatieve architectuur. De torens zijn van verre herkenbaar dankzij hun bijzondere bekroning, een driedimensionaal landschap van terrassen, groen en hout. In het ontwerp zijn de zonrichting en het zicht op stadscentrum en zee meegenomen. De beglazing speelt dan ook een cruciale rol in het ontwerp.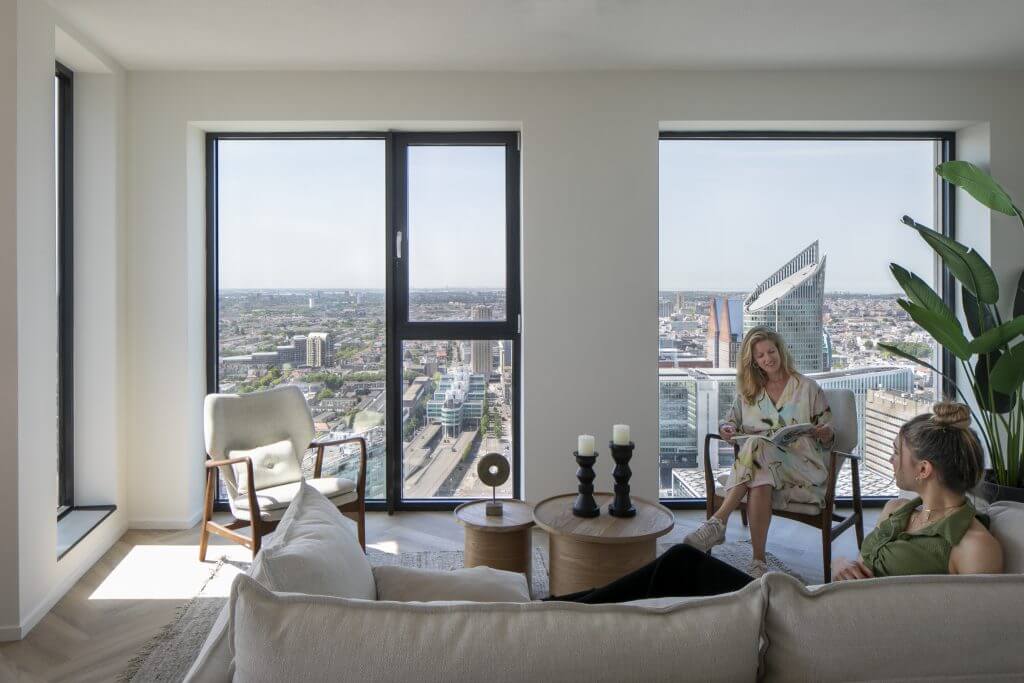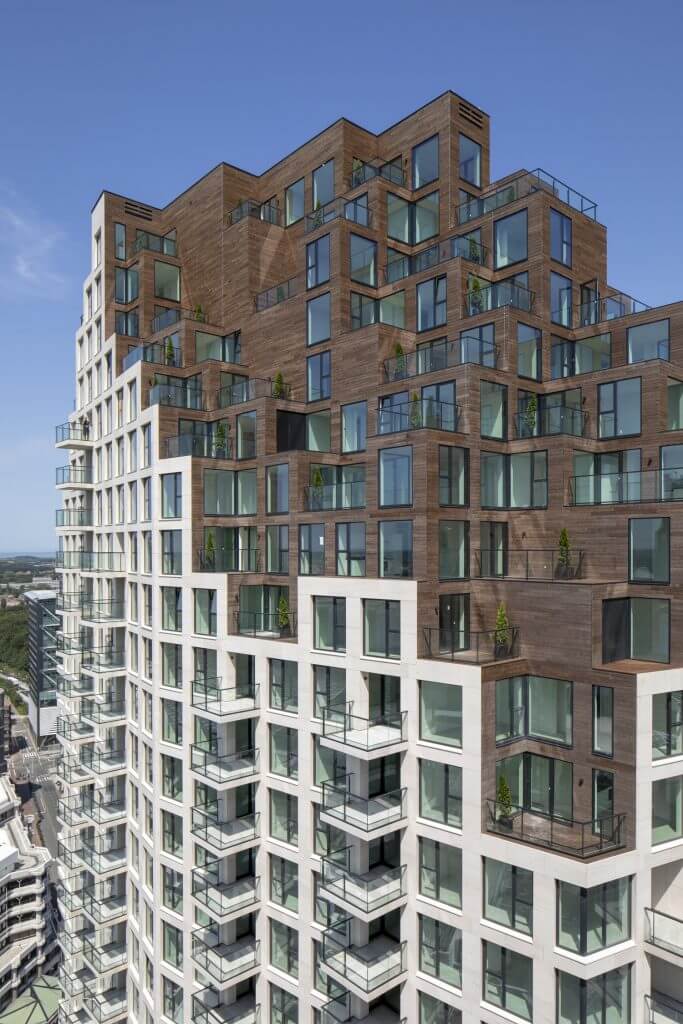 Van advies naar productie naar levering
Alkondor werd aangetrokken door de bouwcombinatie J.P. van Eesteren/BESIX die de constructie van The Roofs uitvoerde. De gevelbouwer belde al in een vroeg stadium naar vandaglas met de vraag om mee te denken over de opbouw, dikte en verschillende kwaliteiten van de beglazing. In hoogbouw gelden strenge eisen qua geluidsdichtheid en veiligheid en daarnaast golden voor dit specifieke project architectonische eisen met betrekking tot zicht en licht. De beoogde duurzaamheid vroeg nog specifieke isolerende kwaliteiten van het glas.
Technisch
Na afstemming en engineering van de benodigde beglazing heeft vandaglas de volledige order van 15.000m2 zonnewarmtewerend isolatieglas IsoPerform SUN geproduceerd en geleverd. Deze beglazing kenmerkt zich door een lichttoetreding van 72% en een zonnetoetredingsfactor van 0,38. Daarmee krijgen de appartementen, ook op grote hoogte en op het zuiden het hele jaar door een aangenaam binnenklimaat. Bovendien voldeed de volledige order aan alle wettelijke akoestische en veiligheidseisen en werd ca 500m2 specifiek brandwerend glas geleverd.
Een glasexpert die kan meedenken was wat de ontwerpers en bouwers van the Roofs zochten en vonden. vandaglas kon zich nog eens bewijzen als onafhankelijke specialist in glasengineering en als betrouwbare productiepartner en leverancier in omvangrijke en complexe bouwprojecten. De bewoners van de torens, die medio 2022 werden opgeleverd en intussen volledig verhuurd zijn, plukken daar nu de vruchten van in hun bijzondere appartementen.