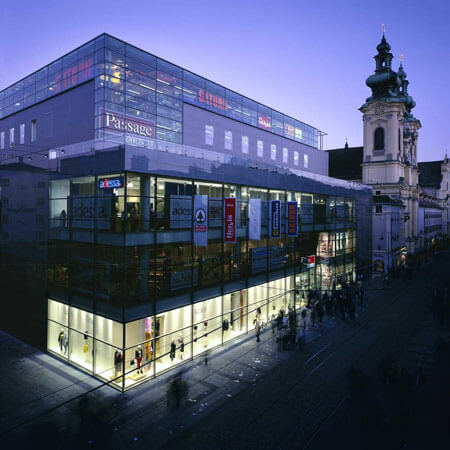 Effective bird protection in glass architecture
effective bird protection standardised
Every year, hundreds of millions of birds die in Europe as a result of collision with transparent glass. Environmental protectionists and ornithologists are concerned that it is a serious problem of nature conservation and on the population dynamic of bids.
A significant factor is the increased amount of construction over the last decades, which has made a drastic impact on the activity spaces of birds. The often used bird of prey stickers have proven to be completely ineffective and cannot prevent bird collision.
Since humans and birds share the same space, it is our responsibility to confront this issue.
1 | effective protection is standardised
In October 2010 - Bird protection glass, proof of effectiveness - with the ONR 191040 has for the first time been published in a standard which determines the measures necessary for effective bird protection.
In recent years, many products have been offered which claim to reduce bird impact on glass surfaces, so it was high time that the term "bird protection glass" was clearly defined. Leading ornithologists from Germany who have been concerned about the development of measures for avoidance of bird impact on glass surfaces, have agreed on strict criteria. Only when in detailed description of test reports do 90 of 100 bids recognise the obstacle is it permitted to use the term "Bird protection glass in accordance with ONR 191040".
2 | Austria sets benchmarks
The Austrian environmental ministry has supported research in recent years to achieve meaningful and reproducible test methods.
Environmental protection in Austria has a high priority. This is proven by the legislation – ON Regulation 191040 – Bird protection glass – testing of effectiveness. The scientific foundation has been established by the test methods provided by the Biological Station Hohenau-Ringelsdorf with its Flight Tunnel II. This reproducible method is suitable for reliable evaluation of collision risk. The birds are not harmed – they are used for one test and then immediately let free.
International recognition has been found in the USA – similar facilities are currently being built.
The Hohenauer experiments clearly indicate that only high effectiveness (9:1) as recommended by Rössler & Laube 2008, can bee seen as the target level of protection. This is possible today by using intelligent products.
The many propagated action mechanisms which are based on the theory of birds recognising UV light have not yet been documented by the Hohenauer Method.
| | | |
| --- | --- | --- |
| |   | - Method Hohenau - test methods bird protection |
| | | |
| --- | --- | --- |
| With screenprints and their effectiveness for bird recognition our company contributes to this common responsibility. vandaglas eckelt has been working with the WUA since 1998 to produce glass sheets with screenprinting for testing with birds. New test requirements have caused us – through systemisation of special colours and patterns – to develop the product 4BIRD. vandaglas eckelt designed the internationally protected 4BIRD designs for maximum transparency. These have been coordinated with the Vienna Environmental Agency (WUA) as well as renowned Ornithologist from Switzerland, Germany and Austria, to achieve the required protective measures to avoid bird impact. |   |   |
4BIRD is a permanent marking on fully tempered safety glass with tested designs and harmonised colours on fully tempered glass with heat soak test. The known characteristics of Tempered Safety Glass allow the use in any construction application and with a combination into a laminated safety glass it also provides safety against falling. Achieving up maximum transparency – up to 94 % of the glass surface can remain transparent but still retain their maximum effectiveness. All designs fulfil Category A and are therefore "very effective". Discreet but effective, permanent and economical.
| | | |
| --- | --- | --- |
| |   | - 4BIRD brochure |
3 | applications
facade systems
lift enclosures
balustrades
noise barriers
street furniture
free standing partitions
conservatories
| | | | | | | |
| --- | --- | --- | --- | --- | --- | --- |
|   |   |   |   |   |   | |
glass types, dimensions & processing
1 | glass types
The carrier sheet of 4BIRD is typically made of fully tempered monolithic safety glass with heat soak test.
In laminated safety glass versions, the individual sheets are typically made of heat-strengthened with 0.76mm PvB interlayer. The 4BIRD marking is normally located on only one of the outer surfaces of the glass.
The minimum glass thickness for the carrier sheet is 4mm but the actual required thickness needs to be checked for structural capacity and prevailing local technical regulations. The glass thickness has no influence on the bird-protection function. Reflective glass coatings are not permitted. To improve the acoustic performance we recommend using glass laminated with acoustical foils (PVB-A).
In contrast to adhesive films or plastics, the fused-in ceramic 4BIRD marking is a permanent and proven solution. We strongly advise against subsequent application of films onto fully tempered glass since this will compromise the safety function should the glass break (shatter into small pieces).
| | | |
| --- | --- | --- |
| |   | - acoustic values of 4BIRD |
2 | dimensions
glass type
dimensions
 4BIRD fully tempered glass with heat soak test
2800 x 6000 mm
 4BIRD laminated glass
2650 x 5200 mm
2000 x  5600 mm
1650 x  6000 mm
3 | processing
› edge working
fully tempered glass with heat soak test and individual sheets for laminated glass of heat strengthened glass up to 2140 x 2140 mm are normally processed with arrissed edges, a cut edge smoothed with a grinding tool.
For units > 2140 x 2140 mm edges can be only flat ground or polished.
 

edge arissed (KGS)
| | | |
| --- | --- | --- |
| |   | - edge-working |
› drilled holes
Possible up to 12 mm glass thickness
The drilled hole diameter (D) cannot be smaller than the glass thickness (S).
Glass thickness 15 and 19 mm
Drilled hole diameter minimum of 18 respectively 25 mm
Production-determined minimum distances must be observed.
| | | |
| --- | --- | --- |
| |   | - production determined minimum distances |
Generally the glass should be installed so the coating is facing the expected approach path of the birds. For free-standing structures such a noise barriers or waiting rooms, it is not possible to determine approach path. It is therefore recommended to use a double-sided 4BIRD marking. This is only possible using laminated safety glass.

To find the optimum project solution, many organisations are available for consultation. In Austria, the Vienna Environmantal ministry has a consultation service using actual research results.
| | | |
| --- | --- | --- |
| |   | - our general glazing guidelinse are also applicable for 4BIRD |
1 | marking
› fully tempered glass with heat soak test
In accordance with EN 14179 all Fully Tempered glass is permanently and visibly marked.
| | | |
| --- | --- | --- |
| |   | - standard marking and location for fully tempered glass with heat soak test |
› laminated glass 
laminated safety glass of 2 x heat strengthened glass is marked as standard.
| | | |
| --- | --- | --- |
| |   | - standard marking and location for laminated safety glass comprising 2x heat strengthened glass pabels |
2 | harmonisation certificate
The carrier sheets of 4BIRD are in accordance with the German Building regulation A Part 1 2004/1 Appendix 11.4.2 and part 1 Nr. 11.8.
| | | |
| --- | --- | --- |
| |   | - certificate of conformity ESG-H |
| |   | - CE conformity certification |
| |   | - harmonisation certificate |
our experts at your service
our consultants from vandaglas eckelt
 
E name.surname@vandaglas.at
M xx xx xx xxx 
 
E name.surname@vandaglas.at
M xx xx xx xxx