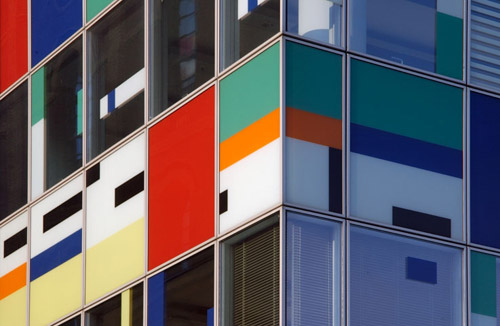 Colourfast, light-, weather- and temperature change resistant glass for colourful facades and interior designs.
What is enamelled-H glass?
Enamelled-H glass is heat-soak tested, thermally toughened safety glass in accordance with EN 14179-1 and is a safety glass in accordance with Austrian Standard ÖNORM B 3710.
The characteristics of enamelled-H glass are colourfast, light- and weather resistant, resistant to temperature change and its ease of maintenance predestine its use for facade and interior designs.
Designers and Architects are discovering more and more applications for both building facades as glass in interiors. Its particular aesthetic provide an enormous potential for design. The architectonic play with colour, surface reflections and light accentuate the building environment or space and function.
A ceramic frit is coated on the reverse surface of the enamelled glass - typically applied by rollers - it is tempered and in a special process undergoes a Heat-Soak-Test. This process heats the glass intended for safety applications under controlled conditions up to 290 °C and holds it at this temperature for at least four hours. The temperature of the glass must not go below 280 °C nor exceed 320 °C. This procedure therefore fulfills the required basic technical safety aspects (GruSiBau).
Our enamelled glass fulfils the requirements of German Construction Regulations Nr. 11.4.2 and is therefore a regulated construction material which can be used without specific approval.
In Construction Regulation A Part 1 2004/1 under Nr. 11.4.2 in Appendix 11.4 the Heat-Soak-Test process has a new current regulation, whereby each step of this lengthy process is exactly described. This requires an in-house production control with designated personnel.
The standard range of colours covers a choice of 50 colour tones – the majority of which comprise of ecological and lead-free components.
Note: Due to specific aesthetics of glass, the appearance of the colours in our publications is only indicative. Internet technology may cause deviation in appearance. Before ordering we recommend obtaining a reference sample. Samples of glass in standard colours on floatglass are available.
| enamelled-H
(TO DO: copy hoover function of colours : http://eckelt.at/en/produkte/design/emalit_h/index.aspx)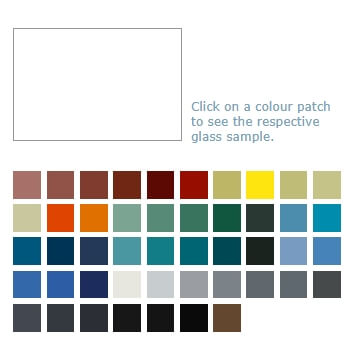 | enamelled-SELECT
A red eye-catcher, a green door, an ivory room divider, an orange glass wall. enamelled-SELECT takes into account the trend towards individualization and at special conditions. For orders of less than 25 m², there are no set-up costs for the 11 enamelled-SELECT color variants.
The enamelled-SELECT standard color palette includes 11 RAL-like shades with a simple color application on float glass.
When executing the enamelled-SELECT color range on extra clear low-iron glass, the color impression can deviate from the standardized RAL tone depending on the glass's own colour, glass thickness and surface structure.

| enamelling on extra clear, low-iron glass
The use of low-iron, extra-clear float glass instead of regular float glass lends the colors optical brilliance and allows narrow colour tolerances.
Special colours are generally possible – the time and cost of color-matching, however, should be considered. A definitive approval for production of a special color such as Metallic colours (e.g. RAL 9006) should only be given from an original glass sample. In specific cases we recommend a full-size sample be viewed in actual installation conditions.
! We do not show any images of this as internet technology does not allow the difference in brilliance to be portrayed.
| enamelled matted glass
Our matted enamelled glass brings a completely new type of material to the table, which is experienced from its appearance and diffuse colour rendition.
(TO DO: copy enlarge function of pictures : http://eckelt.at/en/produkte/design/emalit_h/index.aspx
| | | |
| --- | --- | --- |
| | | |
| color BF317WW | color BF1WW | color BF550WW |
| metallic enamelled glass
To achieve a metallic effect a particular color-enhancing of enamel is used. This lends the glass a lively, more or less glittering appearance, dependent on sun rays and lighting conditions.
| | | | | |
| --- | --- | --- | --- | --- |
| | | | | |
| color ME-1WS | color ME-2WS | color ME-3WS | color ME-4WS | color ME-SWS |
| enamelled patterned glass
The sleek, geometric relief patterns create interesting reflections and light-manipulation depending on viewing angle and light incidence. Standard carrier glass types are the  MASTER-POINT and MASTER-LENS (6/8mm), LISTRAL L (8/10mm), Crepi 504 (6mm).
Other glass types, such as MASTER-CARREÉ, MASTER-LIGNÉ and MASTER-RAY can only be manufactured by flood coating the enamel. The MASTER- patterned glass range is of Saint-Gobain Glass.
| | |
| --- | --- |
| | |
| color BF551WW | color BF551WW |
[TO DO: ASK BIRGIT ASPALTER TO REDESIGN HANDBOOK TOLERANCES]
a| dimensions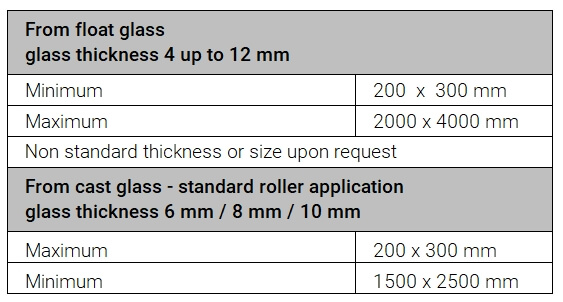 › Glass types:
MASTER-POINT, MASTER-LENS in thickness 6/8 mm
LISTRAL L in thickness 8/10 mm
CREPI 504 in thickness 6mm
b| Application notes
Our enamelled glass is manufactured as fully tempered safety glass with a Heat Soak Test as standard acc. to EN 14179-1.
Specific national, regional or local codes and/or standards for application of enamelled glass can differ significantly. The purchaser is responsible for the prevailing requirements.
The thermal tempering implies that subsequent work such as cutting, grinding, or drilling etc. may not be carried out on the glass. These operations will certainly cause breakage or significant weakening of the material characteristics! All additional work to the glass must therefore be carried out prior to the tempering process.
c| Explanations
It is normal for the enamelled surface to be installed away from the weathered side. The intended viewing side is always outside (weather-side). Applications deviating from this in respect of characteristics and use are to be requested on a specific basis, in particular:
use in vision areas (viewing from both sides, e.g. Partitions, ...)
use with back-lighting
edge quality and free-standing edges
Detailed information regarding assessment of colour rendition, notes on applications etc. can be found in the guidelines for determining the visual quality of enamelled and screen-printed glass. Notes on applications can be found under chapters 7.1.1 and 7.1.2 and 7.2 of our Handbook Tolerances [>].
d| Samples
Colour differences may be apparent between samples and actual project deliveries because the self-colour of the glass, its thickness and surface structure can influence the colour. This can also be different in intensity depending on the colour chosen. It is therefore clear that when colour differences exist between a sample and actual delivery it does not constitute a defect. In cases of doubt we recommend a full-size mock-up. This is obligatory for metallic enamelled glass wit.
e| Moisture uniformity on the glass surface
The surface moisture uniformity on the outside of the glass may vary e.g. due to imprints from rollers, fingers, labels, paper residue, suction pads, sealant residue, smoothing agents, separation agents or environmental influences. Moisture on the glass surface as a result of condensation, rain or cleaning water may have differing levels of uniformity. Such appearances are inherent characteristics and cannot be considered as defects.
f| Edge working
Enamelled glass up to 2140x2140 mm is supplied standardly with arrissed edges as standard. Glass dimensions larger than 2140 x 2140 mm can have the edges only fine ground or polished.
When edges are ordered fine ground (KGN) or polished (KPO) they will have the corners swiped matt as standard.
g| Drilled holes
glass thickness up to 12mm - the hole diameter (D) must not be less than the glass thickness (S).
glas thickness 15mm and 19mm - hole diameter minimum 18mm and 25 mm
Production restrictions apply for edge distances:
Quality, Marking & Certification
a| Quality
Our enamelled-H glass, being fully tempered HST from float glass, is subject to continuous internal and independent controls.
b| Marking
Visible quality stamp for our enamelled glass:

Each sheet of glass receives a quality stamp (indicator paint) in the corner of its leading edge. This patented indicator paint proves that the glass has gone through the HST process. Before the Heat-Soak-Test each glass edge receives a dash of special blue paint which under the test conditions – minimum of four hours heat-soaking at approx. 280 °C – turns beige-brown. This proves that the marked unit has really undergone the test. This facilitates a loophole-free control of every sheet of glass even prior to installation in the facade.

In accordance with EN 12150, all enamelled glass is visibly and permanently marked.

 
 

quality seal prior to heat soak test (HST)

 
 

quality seal after heat soak test HST
c| Certification
Harmonisation certification Fully Tempered–HST (ESG-H) fulfils the requirements of the German Building regulations A Part 1 2004/1 Appendix 11.4.2
vandaglas eckelt possesses all certification for such requirements in accordance with 89/106/EEC of the Council of the European Community. The applicable CE harmonization statements can be downloaded on the right.
Enamelled glass in spandrels color matching the facade insulation glazing
In order to achieve a uniform appearance on a facade, we have colour-matched enamelled spandrel glass to many of our thermal insulating and solar control units.
(TO DO: do we have a table of enamel codes that color match with specific glass coatings?)
insulation glass –
solar control coating
spandrel colour code
ST150
S-EM 750WW
SKN154
S-EM 0621WW
SKN165
?
SUNEX neutral 50/25 G
S-EM0621WW
SUNEX neutral 67/34
S-EM744WW
?
?
Our experts at your service
our consultants
 
E name.surname@vandaglas.de
M xx xx xx xxx 
 
E name.surname@vandaglas.de
M xx xx xx xxx